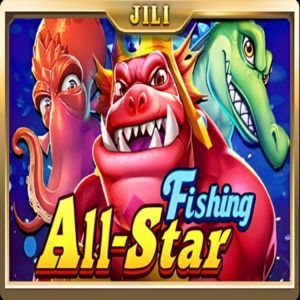 All Star Fishing Game Review & Free Demo
All Star Fishing Game is a fish shooting game from JILI Games. Discover the game features and learn how to play All Star Fishing with free demo. All Star Fishing Game is an exciting underwater adventure that takes you to the depths of the ocean for a thrilling gaming experience.
Developed by JILI, this popular fishing game offers a unique blend of strategy, skill, and entertainment. Whether you're a novice angler or a seasoned gamer, All Star Fishing Game provides an immersive journey that promises hours of excitement.
In this game, you'll have the opportunity to explore a vibrant aquatic world filled with colorful marine life. Armed with special weapons like the Shark Bite, Jellyfish Cannon, and Eagle Claw Hook, you'll aim to reel in a treasure trove of rewards.
All Star Fishing Details & Information
<
| | |
| --- | --- |
| Software | Jili |
| Type | Video Arcade |
| Max Win | 1200X |
| Sit Per Table | 4 |
| Min Coins Size | 1 |
| Max Coins Size | 100 |
| RTP | 95.61% |
How to Play All Star Fishing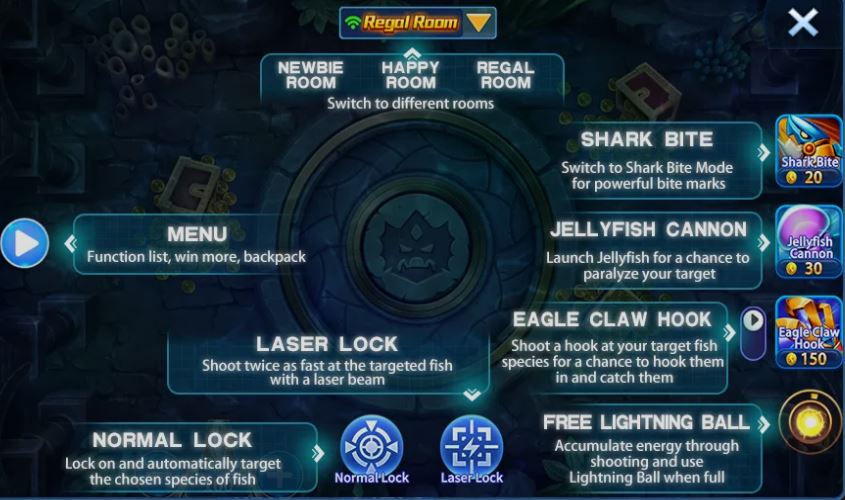 To play All Star Fishing, you should understanding the game mechanics, placing your bet & paylines and selecting games. Learn how to play All Star Fishing with the help of our guide below.
1. Understanding the Game Mechanics
Target Control (Auto Shoot)
All-Star Fishing Game introduces a unique and user-friendly gameplay mechanic known as "auto shoot." This feature eliminates the need for manual aiming and firing at targets, providing a seamless and enjoyable gaming experience. 
Choosing Your Weapon
To excel in All-Star Fishing, selecting your weapons wisely is paramount. The game offers a variety of special weapons, including the Shark Bite, Jellyfish Cannon, and Eagle Claw Hook. Each weapon comes with its own set of advantages and abilities. 
Bet Adjustment
All-Star Fishing Game allows you to tailor your bets to your preferences and risk tolerance. Before embarking on your fishing adventure, take a moment to adjust your bet amount. This customization feature ensures that players of all levels can enjoy the game, from newcomers looking for a low-risk introduction to high rollers seeking substantial rewards.
2. Placing Your Bet and Paylines
Once you've familiarized yourself with the game mechanics and selected your preferred weapon, the next step is to place your bet and understand the paylines. All-Star Fishing offers a range of betting options to suit your budget and playing style.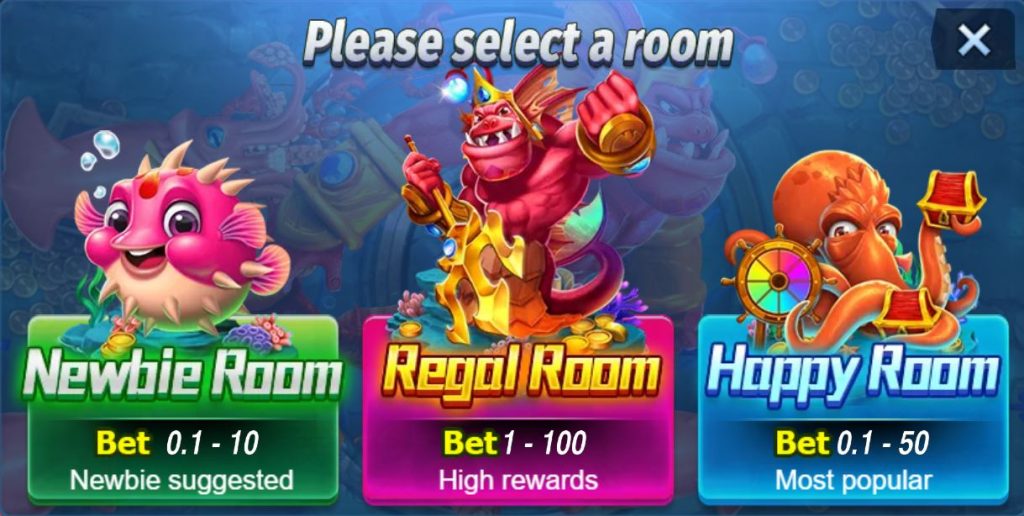 3. Selecting the Game Room
All-Star Fishing Game provides various game rooms, each catering to different player preferences and risk levels. Your choice of game room can significantly impact your gaming experience. Here are the available options:
Newbie Room: Ideal for beginners, this room offers a bet range from 0.1 to 10, providing a low-risk introduction to the game.
Happy Room: The most popular room, with a bet range from 0.1 to 50, offering balanced risk and rewards for players seeking excitement.
Regal Room: Designed for high rollers, this room features bets ranging from 1 to 100, with substantial rewards awaiting those willing to take the risk.
Selecting the right game room ensures that your gameplay aligns with your preferences and bankroll. Now that you have a solid understanding of how to play All-Star Fishing, you're ready to embark on your underwater adventure and chase extraordinary wins.
Game Features of All Star Fishing
There are several important game features in All Star Fishing, included special weapons for fishing excitement, mini game galore, unique sea creature, and free thunder bolt for explosive action. Get ready to dive in and take a look at each of them mentioned below!
1.Special Weapons for Fishing Excitement
All-Star Fishing offers an array of special weapons that add depth and strategy to your fishing adventures. Let's take a closer look at these weapons: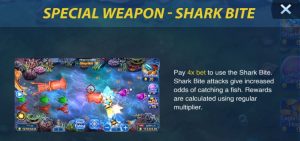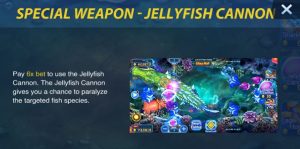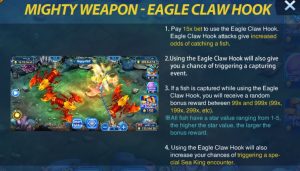 Special Weapon Eagle Claw Hook
Pay 15 times your bet to unleash the Eagle Claw Hook. Eagle Claw Hook attacks provide higher odds of catching fish. This weapon also offers the chance to trigger a capturing event. If a fish is captured while using the Eagle Claw Hook, you'll receive a random bonus reward, ranging from 99x to 999x, based on the fish's star value (ranging from 1-5). This weapon packs both power and rewards.
2.Special Fish with Evolution
These unique creatures can evolve twice, each time granting an additional multiplier on top of the standard reward. Here's how it works:
When a level 3 Special Fish is captured, it reverts to level 1, with multipliers of 3x, 5x, and 7x, respectively. This encourages you to target these elusive species and reap greater rewards over time.
3.Mini-Games Galore
Beyond the main fishing action, All-Star Fishing boasts an array of special mini-games, each offering its own unique thrills:
Roulette: Test your luck and potentially win big in the roulette mini-game.
Slot Machines: Spin the reels and aim for winning combinations in the slot machine mini-game.
Ocean King Interaction: Engage in interactions with the Ocean King in a unique mini-game experience. These mini-games not only provide a delightful diversion but also offer additional opportunities to enhance your winnings.
4.Unique Sea Creatures and Bonuses
All-Star Fishing features a captivating cast of sea creatures, each with its own characteristics and bonuses:
Crystal Crab & Jewel Turtle: Capturing these creatures can trigger thrilling slot machine gameplay, with the potential to claim corresponding bonuses instantly. Prizes can reach up to 888x.
Giant Octopus: Attacking the Giant Octopus gives you a chance to trigger a special bonus wheel event. After spinning the bonus wheel, you'll be granted the marked bonus amount, with a maximum bonus of 600x.
Phoenix: Shooting at the Phoenix yields basic multiplier rewards and offers the chance to participate in a special mini-game to Awaken the Phoenix. Rapidly tapping the screen during the mini-game strengthens the Phoenix's fire attack, with a maximum bonus of 800x awaiting those who tap skillfully.
Giant Crocodile: Targeting the Giant Crocodile results in basic multiplier rewards and a chance to engage in a special mini-game to Enrage the Crocodile. Filling the Rage meter by tapping the screen rapidly can grant a bonus of up to 1000x.
Naga: Shooting at the Naga grants basic multiplier rewards and access to a special mini-game. In this mini-game, you can select one of two Electric Orbs, allowing the Naga to perform a full-map electric attack and provide bonuses of up to 1200x. The mini-game provides 2 chances to attack with the Electric Orb, and each attack has the potential to drop a Sapphire, giving you a free Electric Orb attack.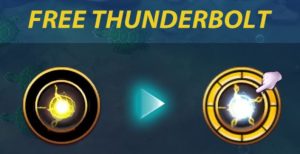 5.Free Thunderbolt for Explosive Action
As you continue to play, you'll accumulate energy that can be unleashed with the Free Thunderbolt feature. When your energy bar is full, clicking the button summons the Thunderbolt, resulting in a large-range attack.
The energy conversion and discharge are proportional to your current bet, and the energy bar is cleared 24 hours after game disconnection or when a player leaves the game.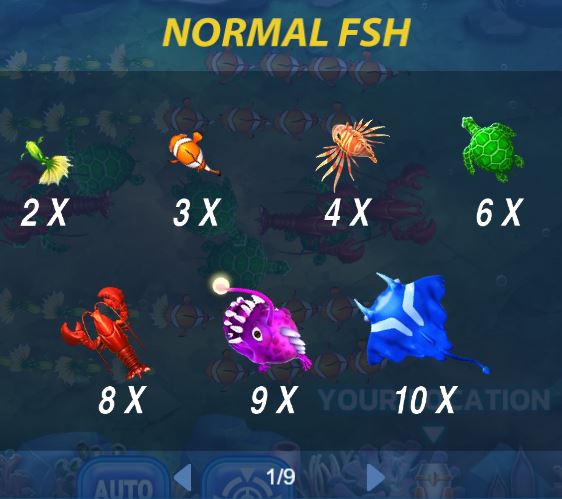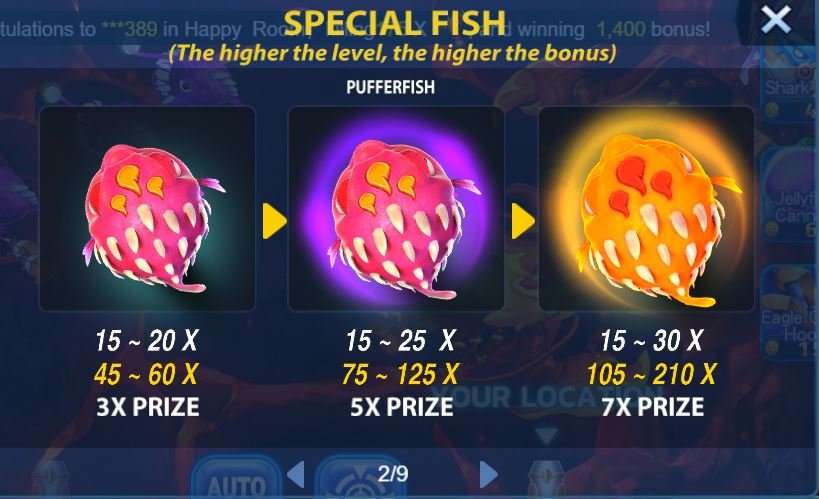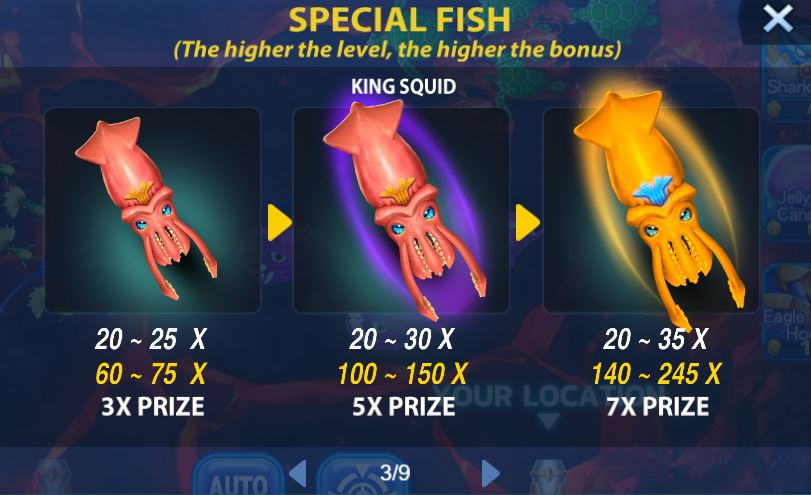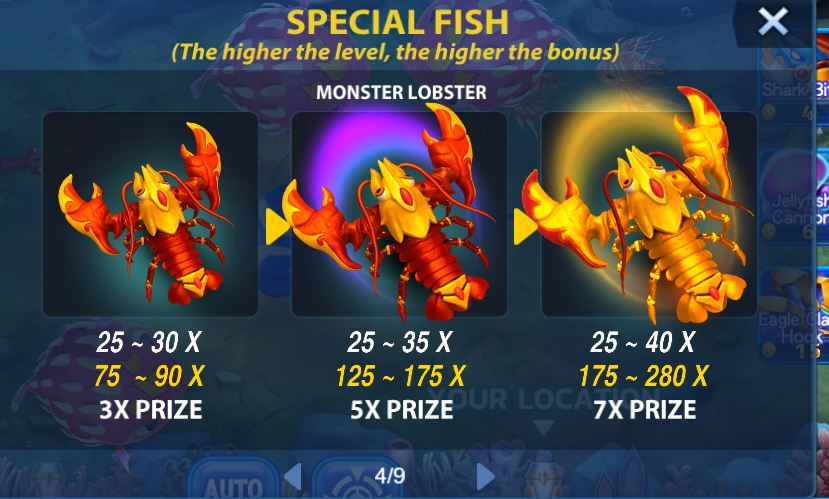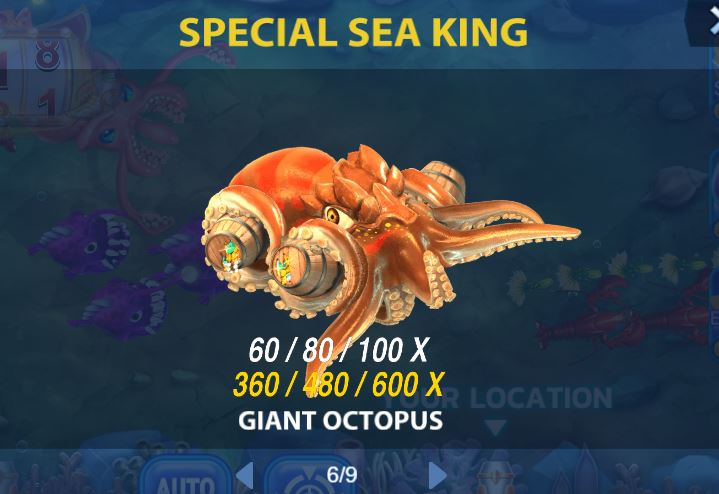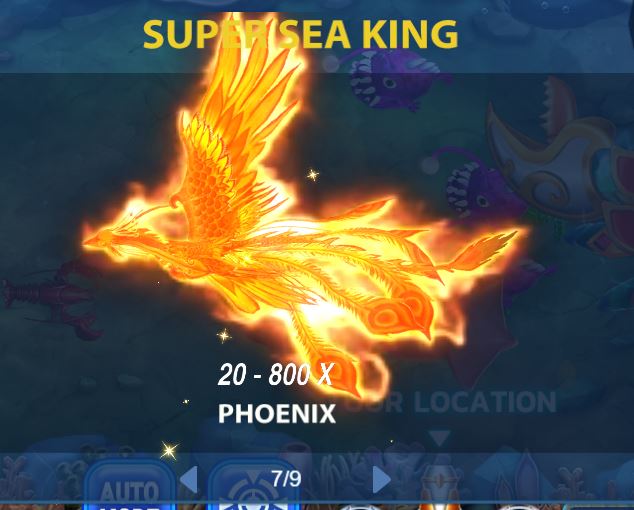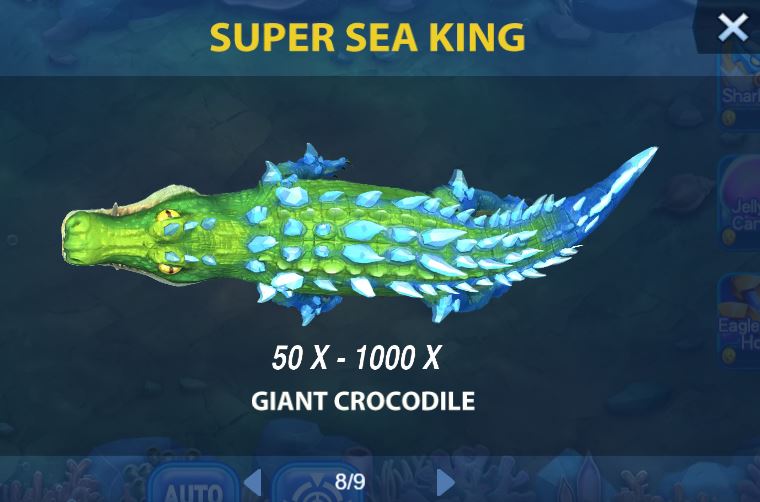 5 Winning Strategies for All Star Fishing
Follow our 5 winning strategies below to win at All Star Fishing, included master the art of target selection, optimize your weapon choices, prioritize special fish, engage in mini games and free thunderbolt.
1.Master the Art of Target Selection
Smaller Fish for Consistency: Smaller fish may be easier to hit but offer lower payouts. Target them for consistent returns.
Go Big for Bigger Rewards: Larger fish can yield substantial rewards. Adjust your strategy to target bigger game when you're feeling confident.
2.Optimize Your Weapon Choices:
Shark Bite for Catching More Fish: If you want to increase your odds of catching fish, use the Shark Bite weapon. It's great for consistent wins.
Jellyfish Cannon for Control: The Jellyfish Cannon can paralyze specific fish species, giving you control over your targets.
Eagle Claw Hook for Big Bonuses: The Eagle Claw Hook offers higher odds of catching fish and the chance to trigger capturing events. It can lead to substantial bonus rewards.
3.Prioritize Special Fish:
Evolution and Multipliers: Special Fish offer opportunities for evolution and increased multipliers. Target them to boost your earnings over time.
Strategic Evolution: Keep in mind that Special Fish can evolve twice, with each evolution granting additional multipliers.
4.Engage in Mini-Games:
Roulette, Slot Machines, and Ocean King Interaction: Don't overlook the mini-games. They provide extra rewards and add variety to your gameplay.
Strategic Energy Management:
5.Free Thunderbolt
Use your Free Thunderbolt attacks strategically. Timing them well can clear the playing field and increase your chances of catching valuable fish.
Bet Proportionally: Remember that the energy conversion and discharge are proportional to your current bet. Plan accordingly.
Top Casino To Play All Star Fishing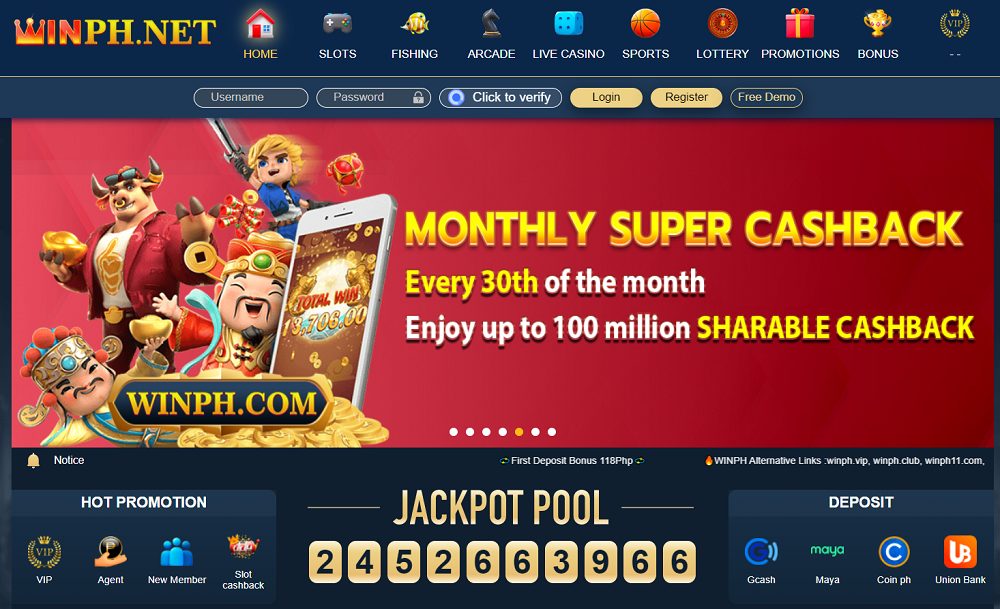 Top Casino to play All Star Fishing is Winph. If you're eager to dive into the captivating world of All Star Fishing Game and try your luck at reeling in some impressive wins, look no further than Winph Casino. This top-notch online casino provides the perfect platform for your underwater adventures.
Winph Casino offers an exceptional gaming experience that combines convenience, excitement, and a wide range of gaming options. Whether you're a seasoned gamer or new to the world of online casinos, you'll find a comfortable and thrilling home at Winph Casino.
One of the standout features of Winph Casino is its user-friendly interface, making it easy for players to navigate and enjoy the game. You can access All Star Fishing Game with ease and dive into the underwater realm, where stunning graphics and exciting features come to life on Winph Casino's state-of-the-art gaming platform.
In conclusion, All Star Fishing Game offers players a unique and thrilling gaming experience. From understanding the game mechanics to exploring its rich features and learning how to win, this underwater adventure provides entertainment for all.
Whether you prefer to play in newbie rooms or go for high rewards in regal rooms, the game caters to your preferences. With special weapons, evolving special fish, mini-games, and the Free Thunderbolt feature, every shot counts, and big wins await.
Eddie Steve, the dedicated Blog Manager at Winph Online Casino, a premier online casino based in the Philippines. With a passion for both the digital realm and the excitement of casino gaming, Eddie is your go-to guide for all things related to the captivating universe of online casinos. His expertise lies in curating engaging and informative content that not only keeps players well-informed but also enhances their overall gaming experience.
The content provided in this blog post is for informational purposes only and should not be considered as professional advice. The information presented here is based on the knowledge and research available up to the date of publication. However, please be aware that the information in this blog post might become outdated or inaccurate over time.
By accessing and reading this blog post, you acknowledge and agree to the terms of this disclaimer. If you do not agree with these terms, you should not continue to access or use the information provided in this post.