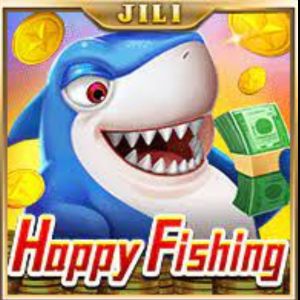 Happy Fishing Game Review & Free Demo
Happy Fishing Game is a fish shooting game from JILI Games. Discover the game features and learn how to play Happy Fishing with free demo. Happy Fishing is not just a game; it's an underwater adventure that immerses players in a world teeming with aquatic wonders and opportunities for big wins. 
Set in a mesmerizing porcelain-themed underwater realm, Happy Fishing offers a visually stunning and engaging gaming experience. But it's not just about aesthetics; it's about strategy and skill. As you navigate the depths, you'll encounter a variety of fish, each with its unique challenges and rewards.
What sets Happy Fishing apart is its arsenal of special features, from explosive Bomb Crabs to whirlpool-creating Starfish. And don't forget the exhilarating battles against colossal bosses and the chance to spin the coveted Lucky Golden Wheel.
Happy Fishing Details & Information
<
| | |
| --- | --- |
| Software | Jili |
| Type | Video Arcade |
| Payout | 2-1500 |
| Sit Per Table | 4 |
| Min Coins Size | 0.01 |
| Max Coins Size | 1 |
| RTP | 96.5% |
How to Play Happy Fishing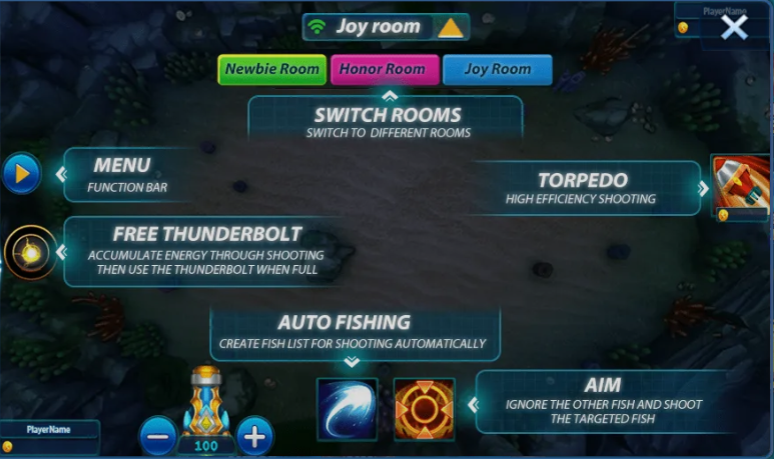 To play Happy Fishing , you should understanding the game mechanics, placing your bet & paylines and selecting the gmae room. Learn how to play Happy Fishing with the help of our guide below.
1.Understanding the Game Mechanics
In the world of Happy Fishing, mastering the game mechanics is crucial to your success. Here, we'll delve into the core elements that will guide you towards becoming a skilled angler in this captivating underwater adventure.
Target Control (Auto Shoot)
Happy Fishing offers an innovative auto-shoot feature, which takes the hassle out of aiming. With this automated targeting system, you can focus on the thrill of the game itself. The auto-shoot function identifies potential catches and fires your weapon with precision. It's a game-changer that makes every shot count.
Choosing Your Weapon


Selecting the right weapon is essential in Happy Fishing. Each weapon comes with its unique characteristics, such as firing speed and power. Some weapons are well-suited for smaller fish, while others excel at taking down larger and more elusive sea creatures. Understanding the nuances of each weapon is the key to optimizing your gameplay.

Bet Adjustment
Happy Fishing allows you to customize your bets, giving you control over the stakes and potential rewards. Whether you're a cautious player or a high roller, adjusting your bet size is a strategic decision. We'll guide you through the process of fine-tuning your bets to align with your gaming style and goals.
2.Placing Your Bet and Paylines
Before you embark on your underwater expedition, it's essential to know how to place your bets and understand the paylines. These elements determine your potential winnings and ensure a thrilling gaming experience.
3.Selecting the Game Room
Happy Fishing offers various game rooms, each with its unique challenges and rewards. Whether you're a beginner looking to hone your skills or a seasoned angler seeking high-stakes adventures, choosing the right game room is crucial. We'll provide insights into the different game rooms available and help you make an informed decision.
Now that you have a solid foundation on understanding the game mechanics, placing bets, and selecting the ideal game room, you're well on your way to becoming a master angler in Happy Fishing. Stay tuned for more insights and strategies to enhance your gaming experience.
Game Features of Happy Fishing
There are several important game features in Happy Fishing , included deep sea white shark, mega octopus, special fish for winning bonuses, special weapon,giant prize first, immortal boss and mega octopus wheel. Get ready to dive in and take a look at each of them mentioned below!
1.The Deep Sea White Shark – Bringing the Grand Prize
Prepare for an adrenaline rush as you encounter the Deep Sea White Shark. This formidable predator is not only a sight to behold but also your ticket to the grand prize. Take aim and test your skills as you target this magnificent creature for a chance at monumental winnings.
2.Mega Octopus – Unleashing the Lucky Golden Wheel
The Mega Octopus is a game-changer in Happy Fishing. Defeating this colossal cephalopod not only rewards you with high multipliers but also unlocks the coveted Lucky Golden Wheel. Spin the wheel of fortune and watch your winnings soar to new heights.
3.Special Fish for Winning Bonuses
Happy Fishing introduces special fish that can turn the tides in your favor: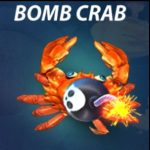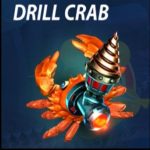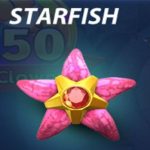 Starfish
When a Starfish meets its demise, it creates a whirlpool around itself. This whirlpool presents you with a unique opportunity to capture other fish caught within its vortex, increasing your chances of success.
Bomb Crab
The Bomb Crab is a crafty adversary. Upon its demise, it throws three explosive bombs onto the stage. These bombs have the potential to eliminate fish caught in the ensuing explosions, offering you an explosive advantage.
4.Special Weapon – Torpedo
For those seeking a high-stakes approach, Happy Fishing introduces the Torpedo. Firing torpedoes comes at a cost of 6 times the bet amount, but it significantly enhances your chances of eliminating valuable fish. It's a strategic choice for those aiming for big rewards.
5.Giant Prize Fish – 5X Super Prize Chance
In the world of Happy Fishing, special fish hold the key to extraordinary rewards. After capturing one of these elusive creatures, players have the opportunity to win consecutively. With each successive win, the chance to claim a 5X super prize becomes a thrilling possibility.
6.Immortal Boss Battles
Keep your eyes peeled for the Immortal Boss. When this formidable opponent takes the stage, skilled anglers can continuously win rewards by relentlessly attacking it until it retreats. It's a test of your gaming prowess and persistence.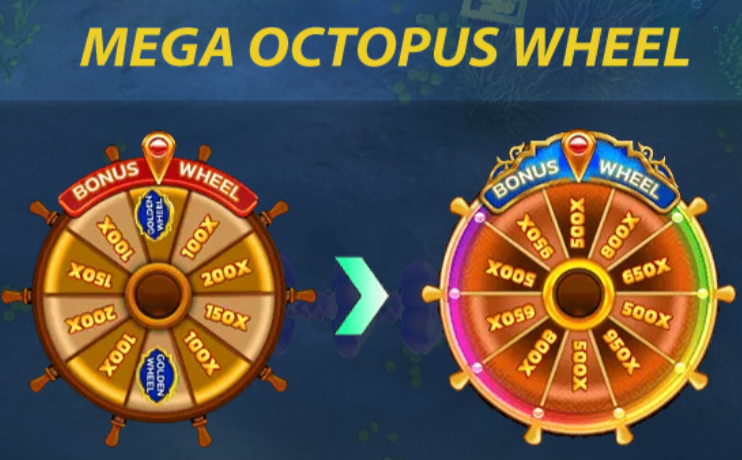 7.Mega Octopus Wheel
After successfully defeating the Mega Octopus, you'll enter a new phase of excitement.
The wheel of fortune awaits you, offering immediate multipliers that boost your winnings.
If luck is on your side and you land on the "Golden Wheel," prepare for an exhilarating spin. This golden opportunity can result in a staggering 950x multiplier, paving the way for colossal rewards.
With these exceptional game features, Happy Fishing transcends ordinary gaming experiences. Whether you're chasing grand prizes, exploring unique bonuses, or engaging in epic battles with immortal bosses, Happy Fishing offers an aquatic adventure like no other.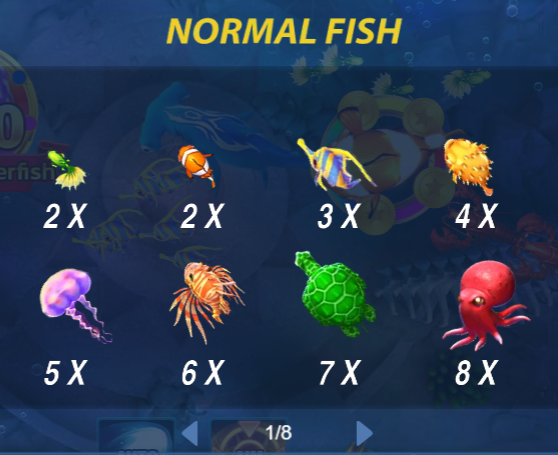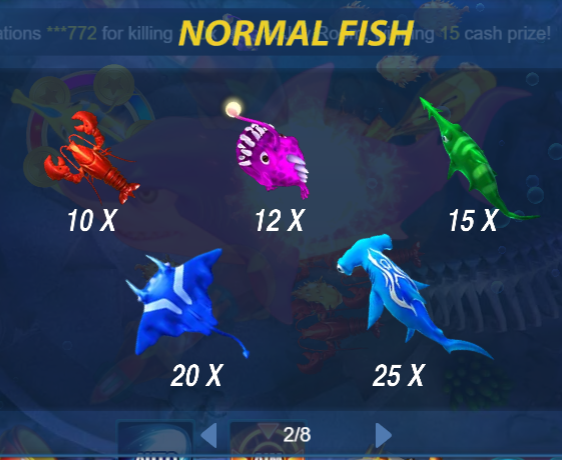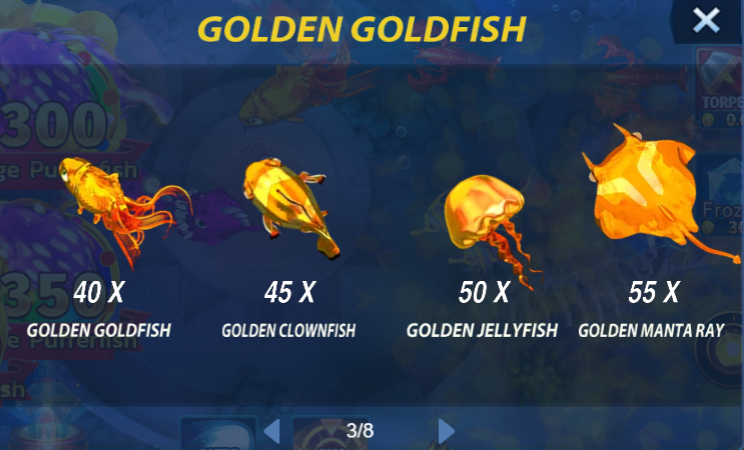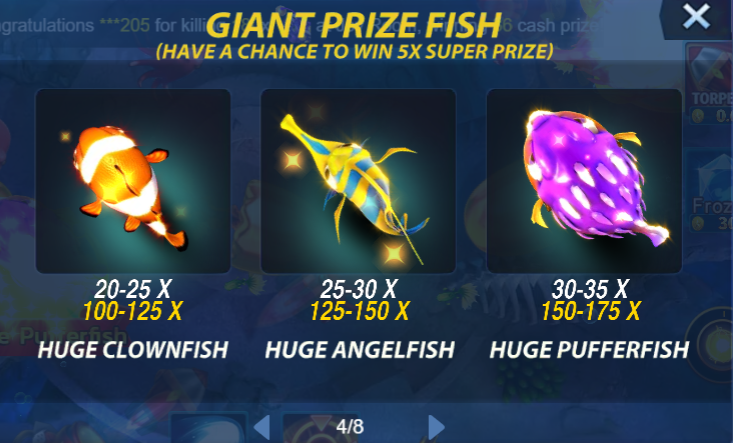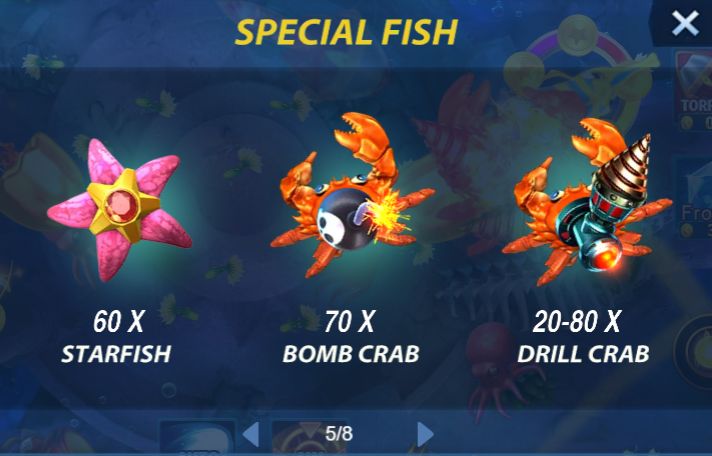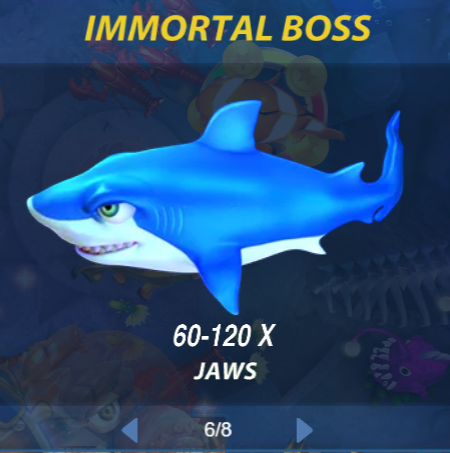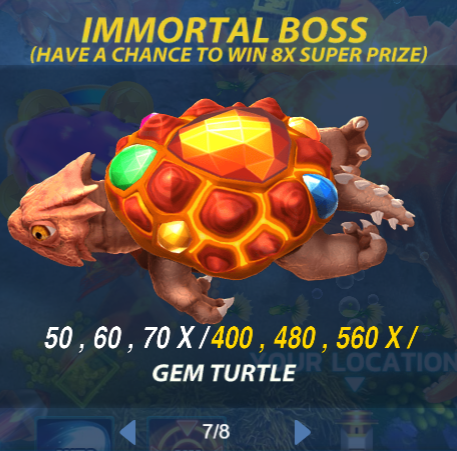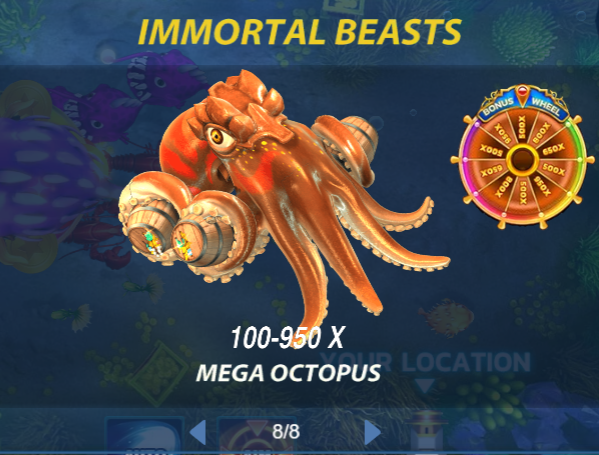 5 Winning Strategies for Happy Fishing
Follow our 5 winning strategies below to win at Happy Fishing, included know your game mechanics, choose your weapon wisely, betting strategy, focus on special fish and utilize the torpedo.
1.Know Your Game Mechanics
Understanding the game mechanics, as discussed in the "How to Play Happy Fishing Game" section, is your foundation for success. Familiarize yourself with target control, weapon selection, and bet adjustment to play effectively.
2.Choose Your Weapon Wisely
As highlighted in the previous section, each weapon in Happy Fishing has unique attributes. Match your weapon to your strategy. Opt for high firepower when targeting big catches, and precision weapons for smaller, elusive fish.
3.Betting Strategy
Adjust your bets strategically based on your budget and objectives. In-game wealth management is crucial for prolonged success.
4.Focus on Special Fish
In the "Game Features of Happy Fishing" section, we introduced special fish like Starfish, Bomb Crab, and Drill Crab. Prioritize targeting these fish, as they offer bonus advantages like whirlpools and explosive attacks.
5.Utilize the Torpedo
When aiming for substantial rewards, consider using the Torpedo. Though it comes at a higher cost, its increased fish-killing capabilities can lead to substantial winnings.
Top Casino To Play Happy Fishing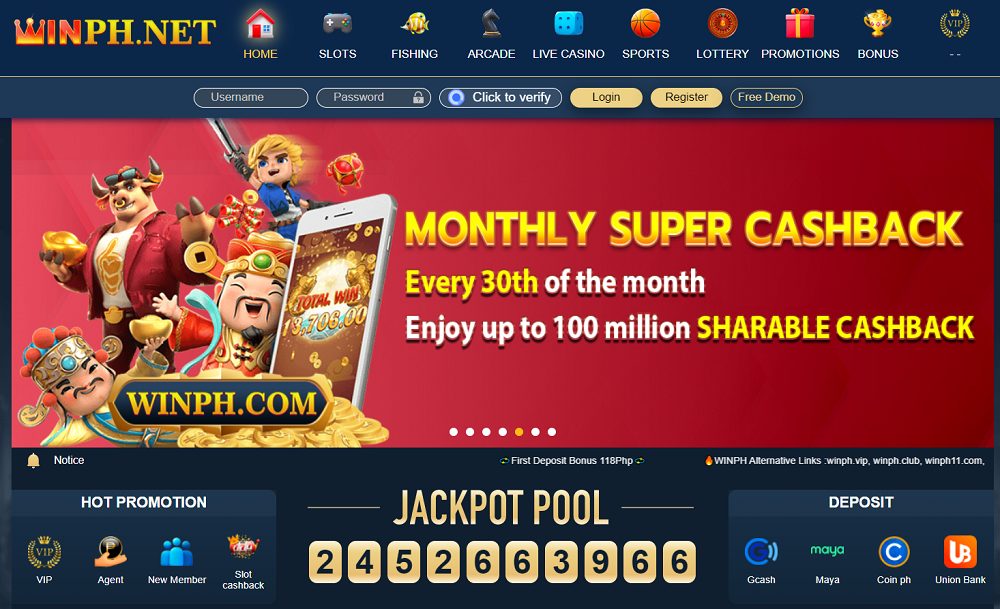 Top Casino to play Happy Fishing is Winph. For an immersive and thrilling Happy Fishing experience, look no further than Winph Casino. With a reputation for excellence in online gaming, Winph Casino offers the perfect platform to dive into the captivating underwater world of Happy Fishing.
At Winph Casino, you'll find a seamless and user-friendly interface that makes navigating the game a breeze. The casino provides a safe and secure environment, ensuring your gaming sessions are worry-free.
What sets Winph Casino apart is its commitment to delivering top-notch gaming content, including Happy Fishing. You can expect seamless gameplay, stunning graphics, and an array of features that enhance your fishing adventure. From the porcelain-themed visuals to the special fish and mega prizes, every element of Happy Fishing comes to life at Winph Casino.
 From the intriguing "Introduction" that draws you into its porcelain-themed world to the comprehensive guides on "How to Play Happy Fishing Game," "Game Features of Happy Fishing Game," and "How to Win Happy Fishing Game," this underwater journey offers something for everyone.
With a deep understanding of the game mechanics and the ability to navigate through special features and increase the ammunition strategies, you'll be well-equipped to conquer the Happy Fishing seas. So, dive in, master the art of the hunt, and reel in your share of epic rewards. 
Eddie Steve, the dedicated Blog Manager at Winph Online Casino, a premier online casino based in the Philippines. With a passion for both the digital realm and the excitement of casino gaming, Eddie is your go-to guide for all things related to the captivating universe of online casinos. His expertise lies in curating engaging and informative content that not only keeps players well-informed but also enhances their overall gaming experience.
The content provided in this blog post is for informational purposes only and should not be considered as professional advice. The information presented here is based on the knowledge and research available up to the date of publication. However, please be aware that the information in this blog post might become outdated or inaccurate over time.
By accessing and reading this blog post, you acknowledge and agree to the terms of this disclaimer. If you do not agree with these terms, you should not continue to access or use the information provided in this post.