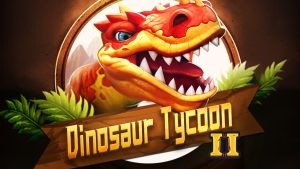 Dinosaur Tycoon 2 Fishing Game Review & Free Demo
Dinosaur Tycoon 2 Fishing Game is a fish shooting game from JILI Games. Discover the game features and learn how to play Dinosaur Tycoon 2 with free demo. Step into a world of awe-inspiring adventure, boundless excitement, and unparalleled rewards with Dinosaur Tycoon 2 Fishing Game, the sensational creation brought to you by Winph Casino.
Prepare to be enthralled as you journey through time and plunge into the depths of an ancient underwater realm teeming with majestic prehistoric creatures. Equipped with a formidable array of potent weapons, players are thrust into a high-stakes quest to capture awe-inspiring dinosaurs, legendary dragons, and mythical beasts.
The game's dynamic target control system, coupled with its seamless auto-shoot feature, ensures that players of every skill level can dive headfirst into a heart-pounding experience. With an array of captivating features such as the Flying Dragon Wheel, coveted Golden T-Rex prizes, and the electrifying Meteor Burst, each moment is charged with anticipation and the promise of monumental rewards.
Free Demo : Dinosaur Tycoon 2 Fishing
Dinosaur Tycoon 2 Fishing Details & Information
| | |
| --- | --- |
| Software | Jili |
| Type | Video Arcade |
| Payout | 2-1500 |
| Sit Per Table | 4 |
| Min Coins Size | 0.01 |
| Max Coins Size | 1 |
| RTP | 96.8% |
How to Play Dinosaur Tycoon 2 Fishing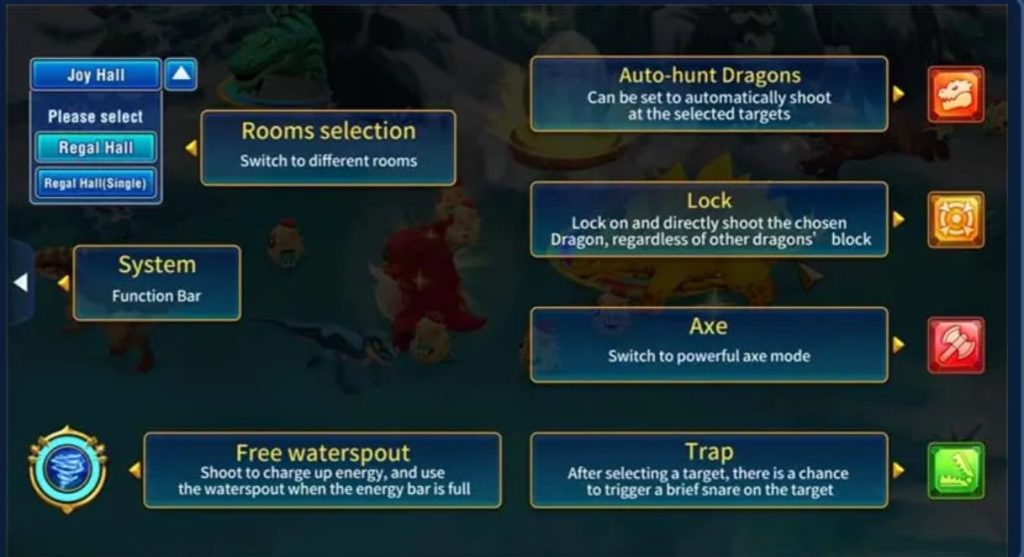 To play Dinosaur Tycoon 2 Fishing, you should understanding the game mechanics, placing your bet, paylines and selecting the game room. Learn how to play Dinosaur Tycoon 2 Fishing with the help of our guide below.
1.Understanding the Game Mechanics
In the enthralling realm of JILI Dinosaur Tycoon 2 Fishing, mastering the game mechanics is essential to harness its captivating gameplay. Our immersive experience unfolds with an array of intricacies, each contributing to an exhilarating journey through the dinosaur-themed waters.
Target Control (Auto Shoot)
At the heart of the game lies the ingenious target control system, where precision and timing converge to create a seamless auto-shooting mechanism. With this revolutionary feature, players can effortlessly lock onto their chosen targets, ensuring each shot is a step closer to victory. 
Choosing Your Weapon
In the pursuit of glory, selecting the perfect weapon becomes a strategic decision that shapes your destiny. JILI Dinosaur Tycoon 2 Fishing empowers players with an arsenal of weapons, each with distinct attributes that cater to diverse playing styles. 
Bet Adjustment
Embarking on this thrilling aquatic odyssey involves a pivotal decision: setting your bets. The art of bet adjustment enables you to calibrate your risk appetite and potential rewards. A well-considered bet places you in control, dictating the magnitude of your potential triumphs. 
2.Placing Your Bet and Paylines
As you venture deeper into the captivating waters of JILI Dinosaur Tycoon 2 Fishing, the pivotal act of placing your bet and understanding paylines comes to the forefront. This segment of the game infuses the experience with both strategy and anticipation, as your wagers intertwine with the game's enchanting mechanics.
3.Selecting the Game Room
In the dynamic landscape of JILI Dinosaur Tycoon 2 Fishing, the selection of a game room becomes a defining choice that can shape your path to triumph.
As you embark on your quest within the realm of JILI Dinosaur Tycoon 2 Fishing, remember that every decision made, from mastering auto-shooting mechanics to strategically placing bets and selecting game rooms, contributes to your journey towards becoming a legendary aquatic conqueror. 
Game Features of Dinosaur Tycoon 2 Fishing
There are several important game features in Dinosaur Tycoon 2 Fishing, included special dinosaur, special dragon king, jackpot system and treasure chest pterodactyl. Get ready to dive in and take a look at each of them mentioned below!
1.Special Dinosaurs – Unleashing Unique Abilities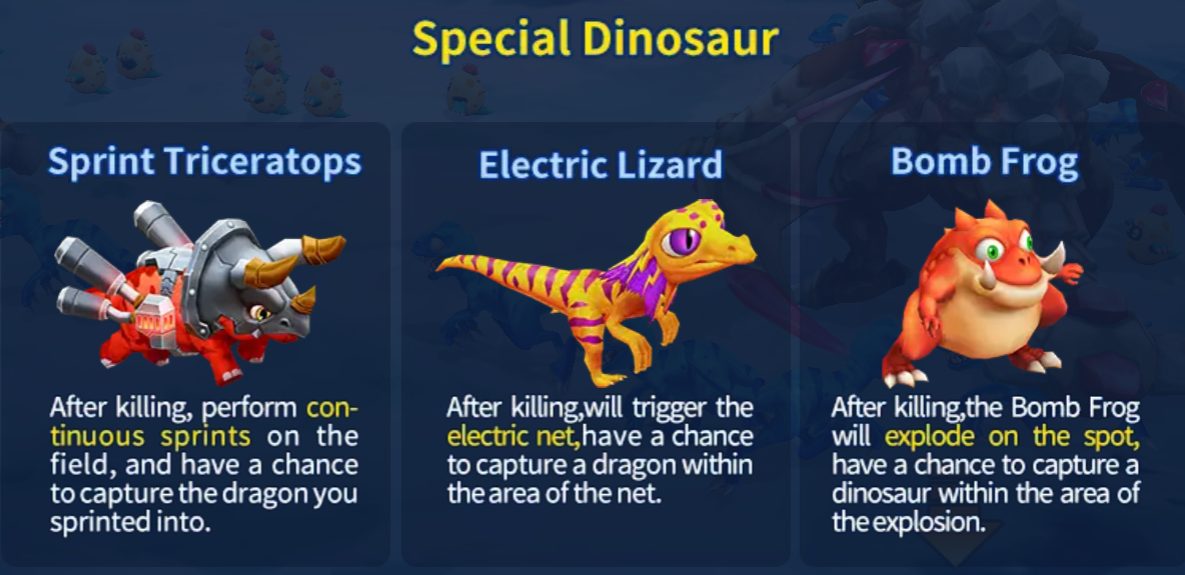 Dive into the world of Special Dinosaurs, each possessing distinctive traits that can tip the scales in your favor.
Sprint Triceratops: Upon vanquishing the Sprint Triceratops, an intriguing challenge awaits. You must navigate a series of sprints on the field, and if your path intersects with a dragon during this sprint, you stand a chance to capture it.

Electric Lizard: Triumph over the Electric Lizard to activate an electrifying net capable of ensnaring dragons within its energetic grasp. A single shot sets off this electrifying spectacle, potentially capturing dragons and boosting your rewards.

Bomb Frog: Vanquishing the Bomb Frog triggers an explosive chain reaction. The ensuing detonation may ensnare neighboring dinosaurs within its blast radius, offering a strategic opportunity to secure multiple catches in a single stroke.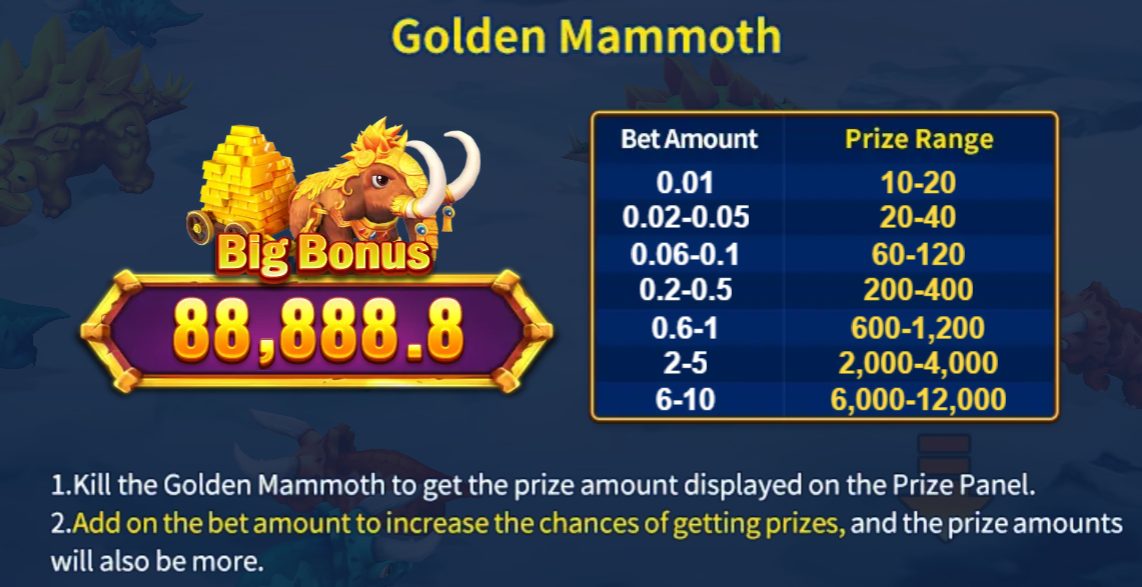 Golden Mammoth – Pursuit of Prized Rewards
A pinnacle of challenge and opportunity, the Golden Mammoth stands as a formidable adversary. To claim the alluring prizes showcased on the Prize Panel, players must triumph over this grand creature.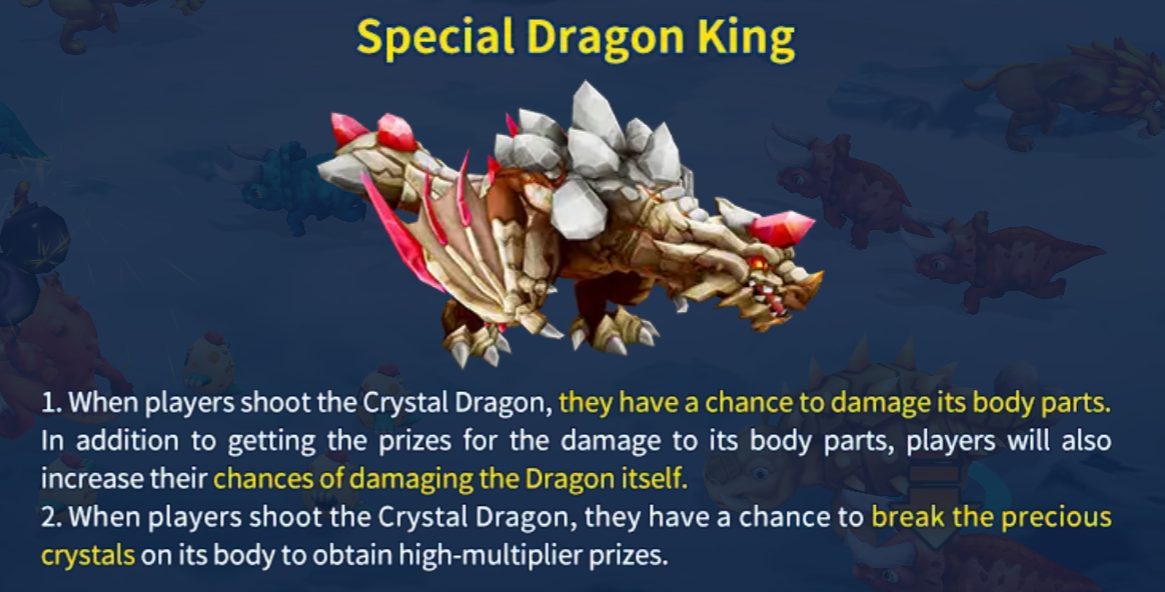 2.Special Dragon King – Unveiling Ultimate Showdowns

In this high-stakes scenario, your intuition and judgment are put to the test. Over five rounds, you must accurately predict the victor, progressively enhancing your multiplier. 
Crystal Dragon – A Sparkling Challenge
Setting your sights on the Crystal Dragon introduces a tantalizing opportunity. Each well-aimed shot might shatter precious crystals adorning its body. This not only leads to high-multiplier rewards but also escalates the odds of inflicting substantial damage to the Dragon itself. Precision and skill are your allies in this quest for sparkling triumph.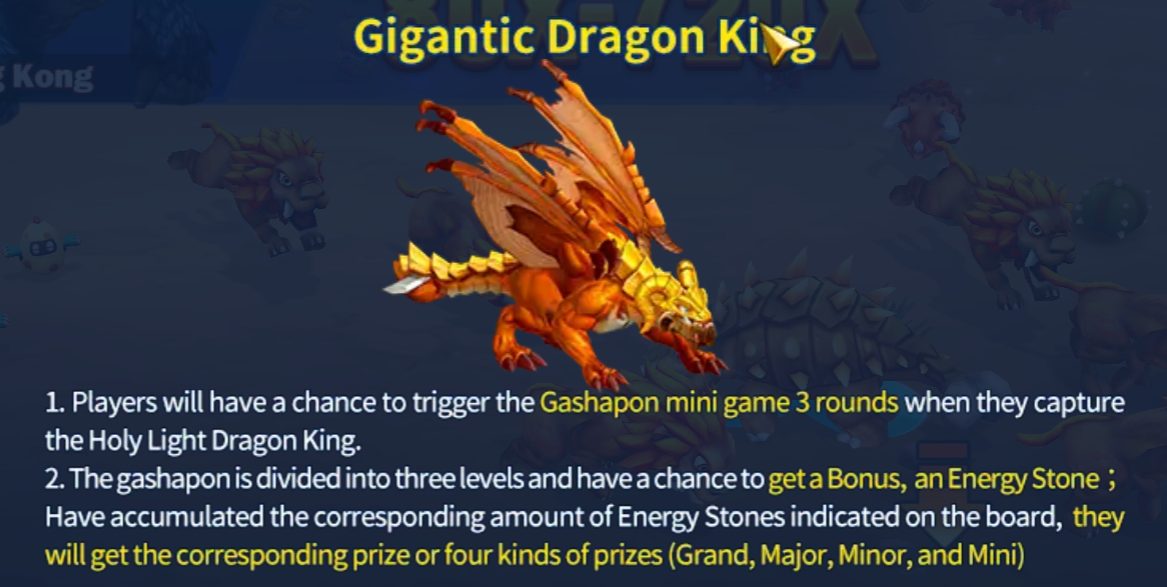 Gigantic Dragon King – Unveiling the Gashapon Mini-Game
 Across three rounds, players engage in this captivating challenge, vying for a chance to secure Bonuses and Energy Stones. Accumulating the requisite number of Energy Stones triggers the unveiling of four distinct prizes: Grand, Major, Minor, and Mini. 
3.Jackpot System – Fortune Favors the Bold

Unlocking these locked prizes necessitates meeting specific bet conditions, with the displayed amount preserved for your potential triumph. The rewards you reap align with the type of prize you secure, culminating in a proportional and satisfying accumulation.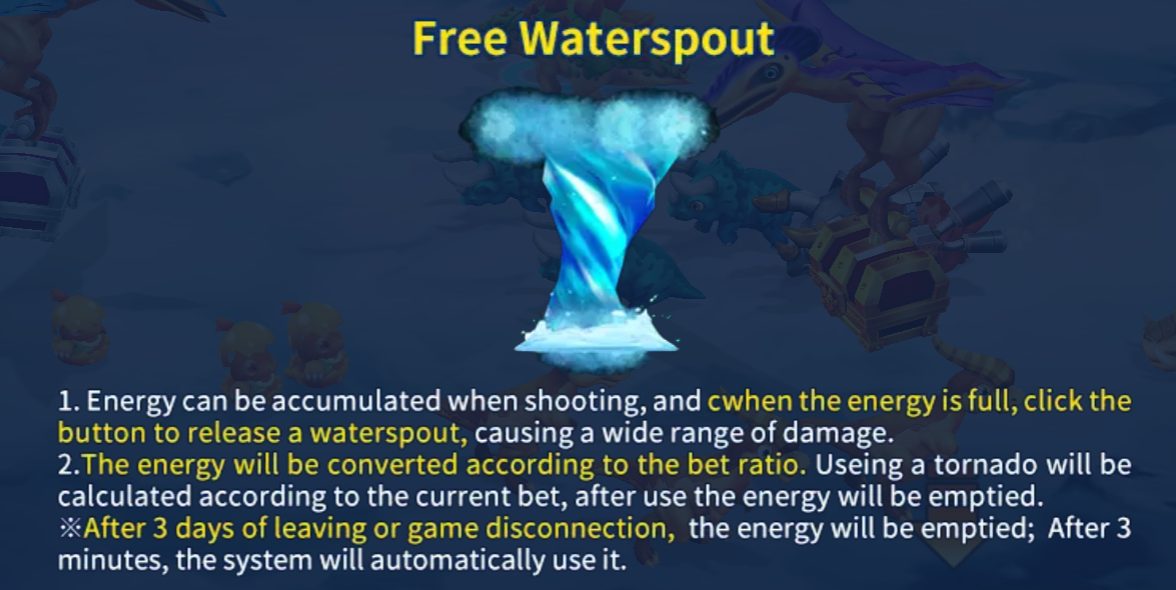 Free Waterspout – Channeling Energy for Impact
Your shots not only capture dragons but also accumulate energy. This energy, when harnessed, can be unleashed as a potent waterspout, wreaking havoc and causing substantial damage. T.
Treasure Chest Pterodactyl – Unearthing Hidden Riches
The Treasure Chest Pterodactyl introduces an element of chance and intrigue. Upon successfully capturing the treasure chest brimming with gold, you receive three dice.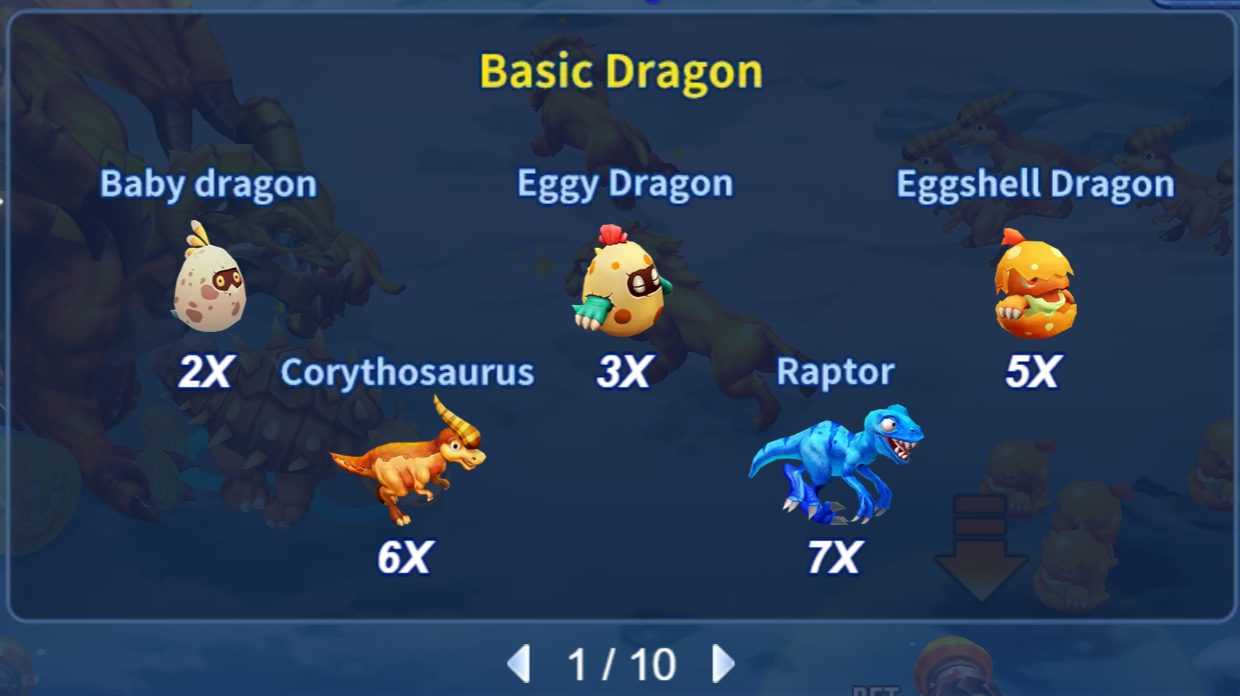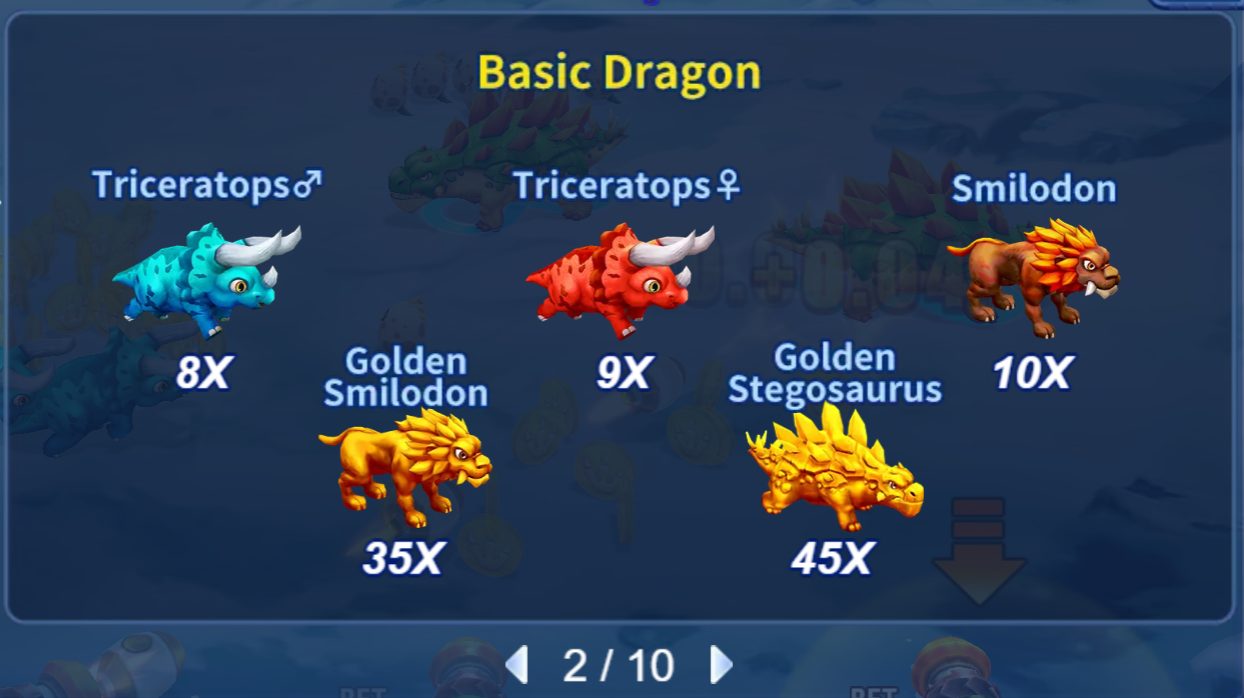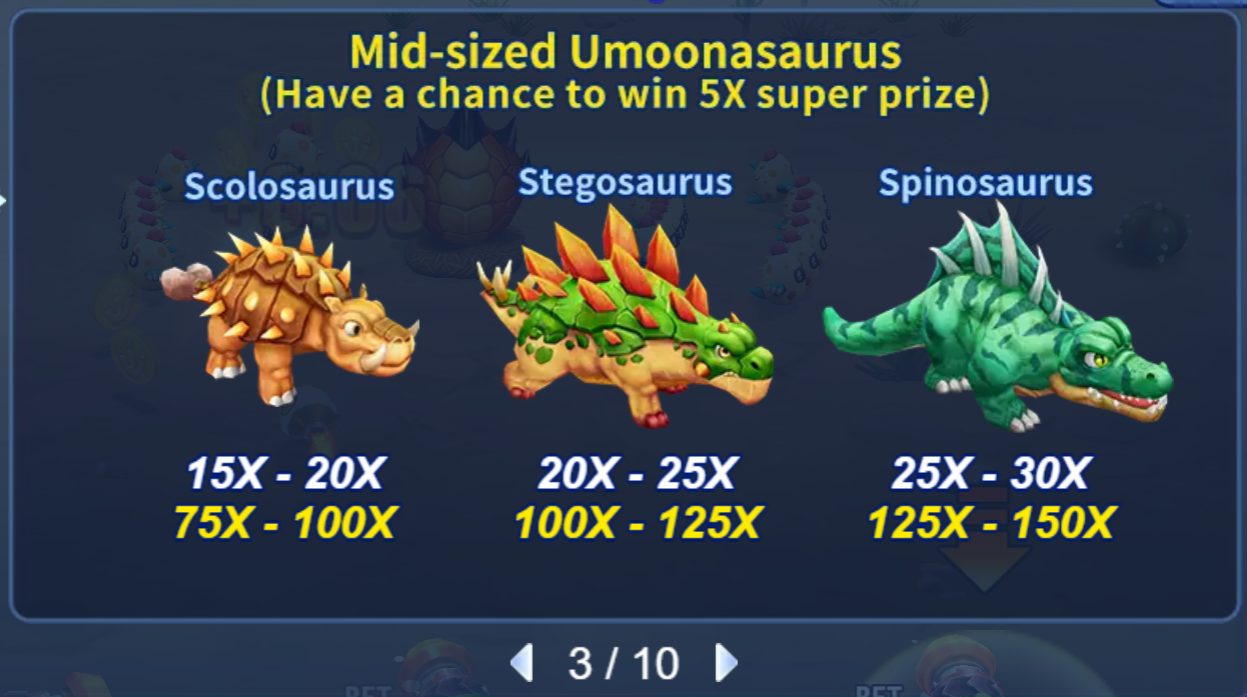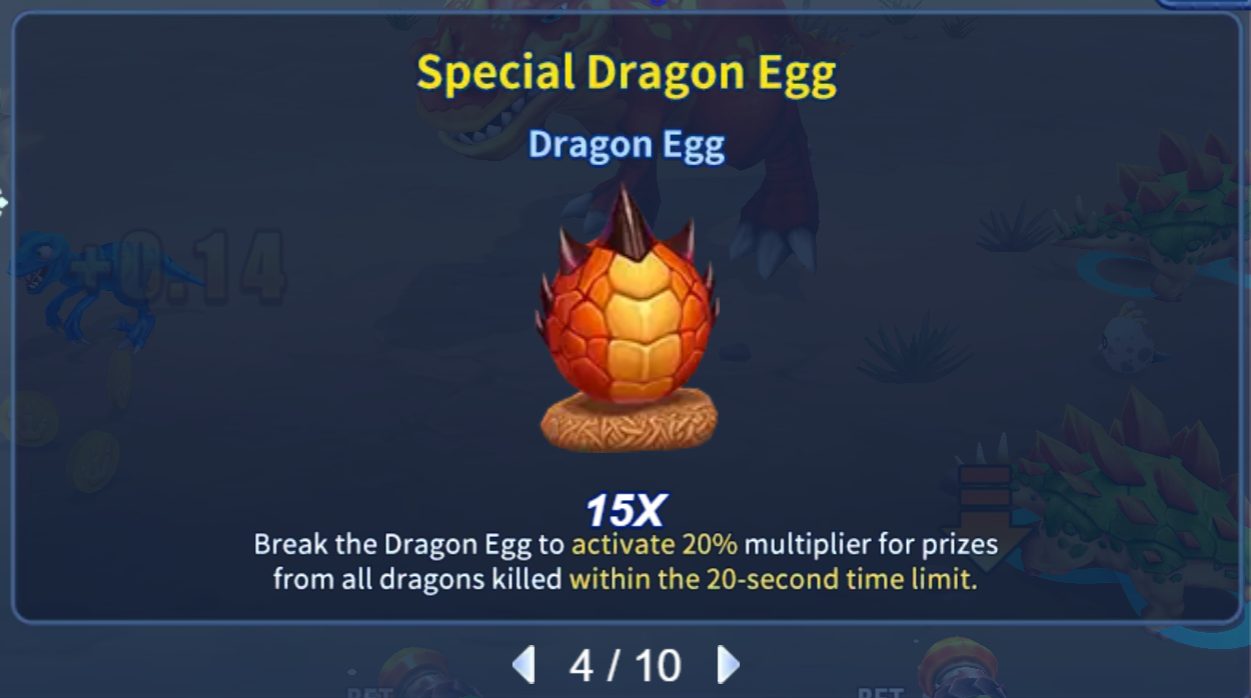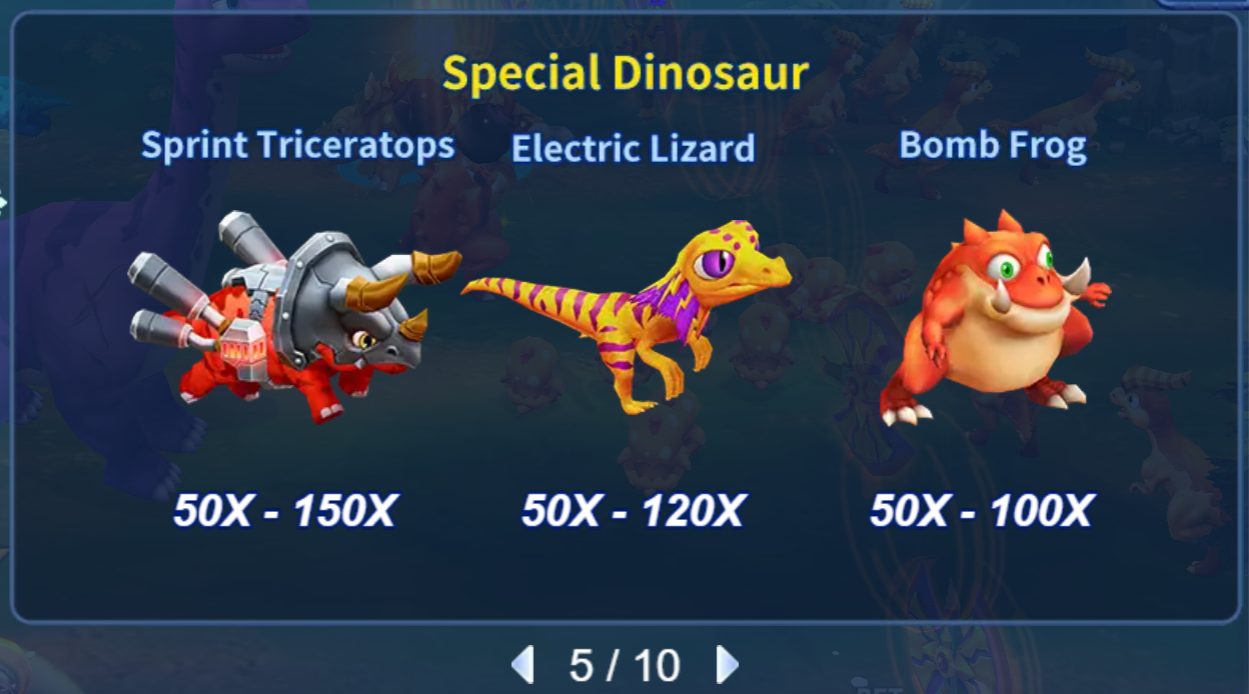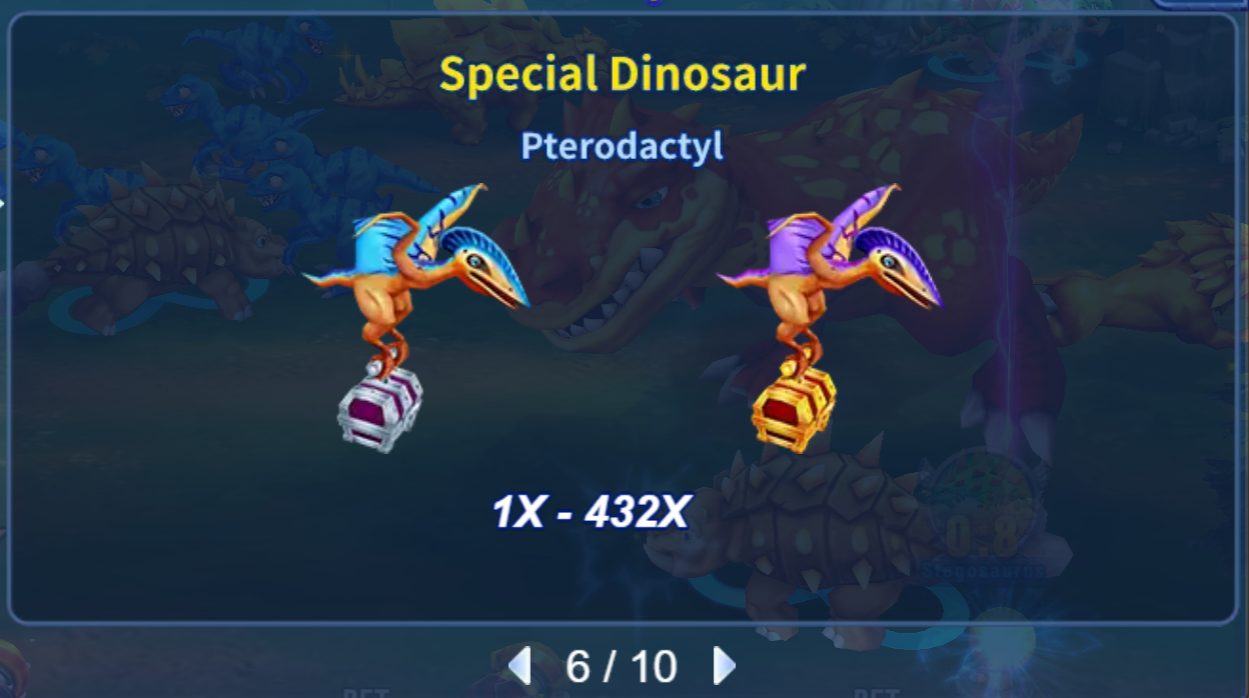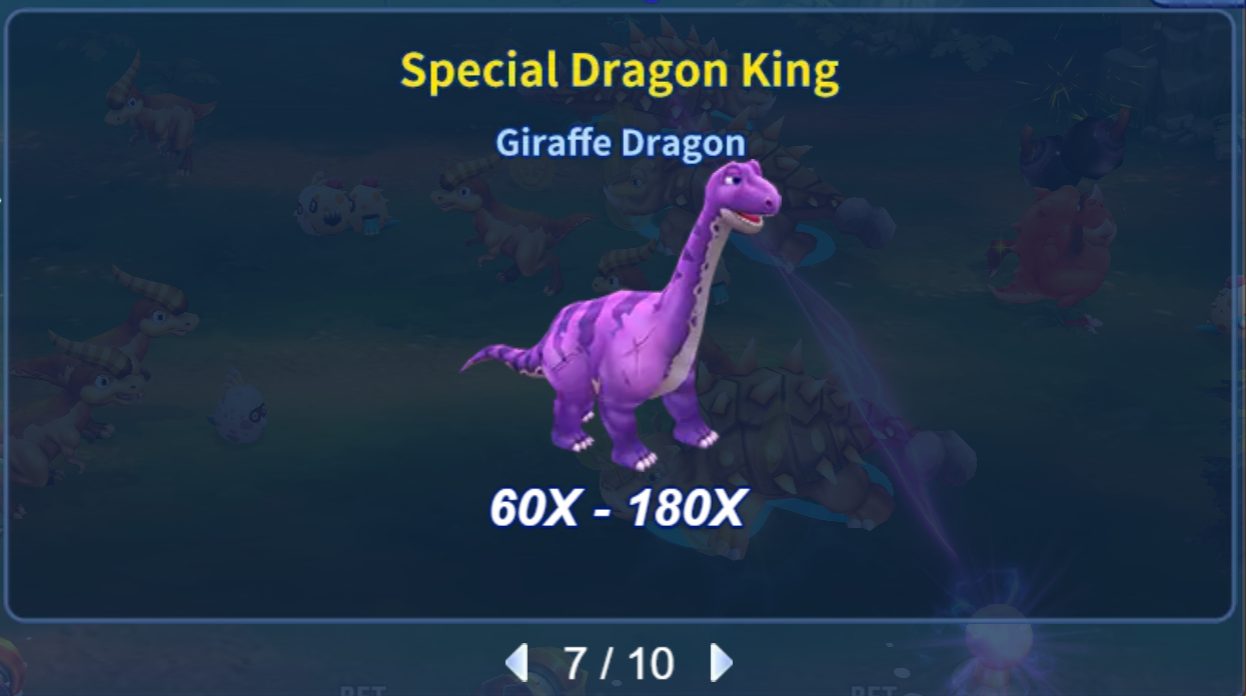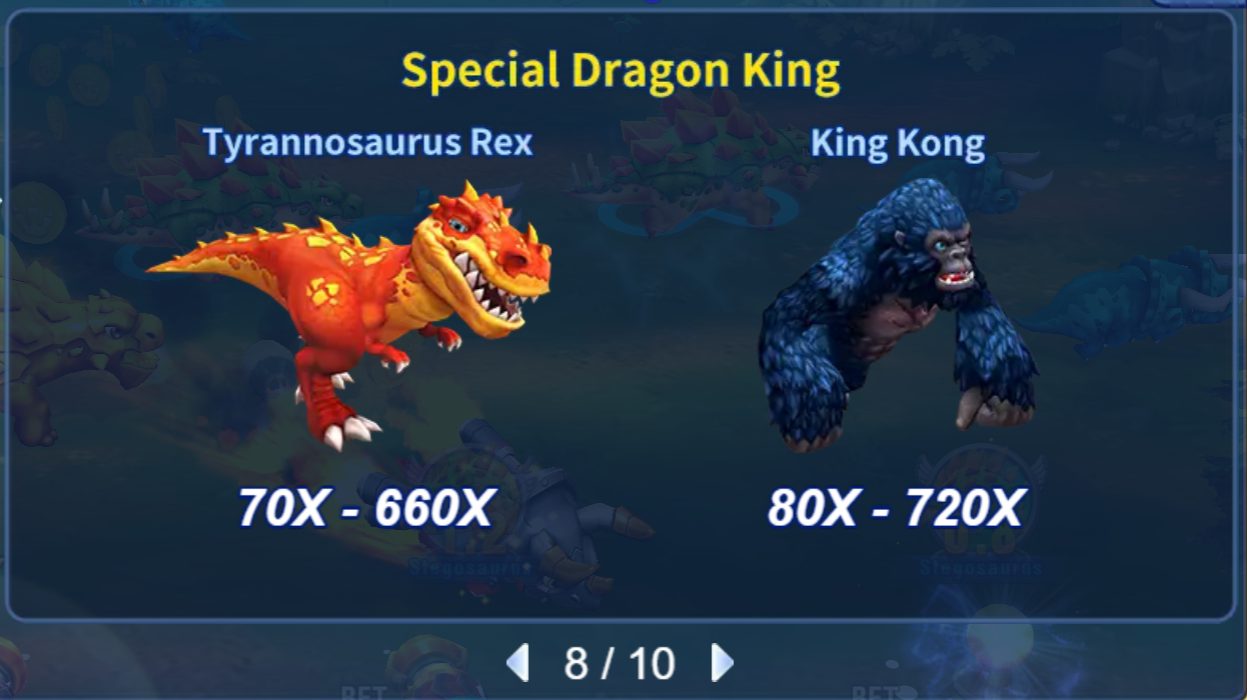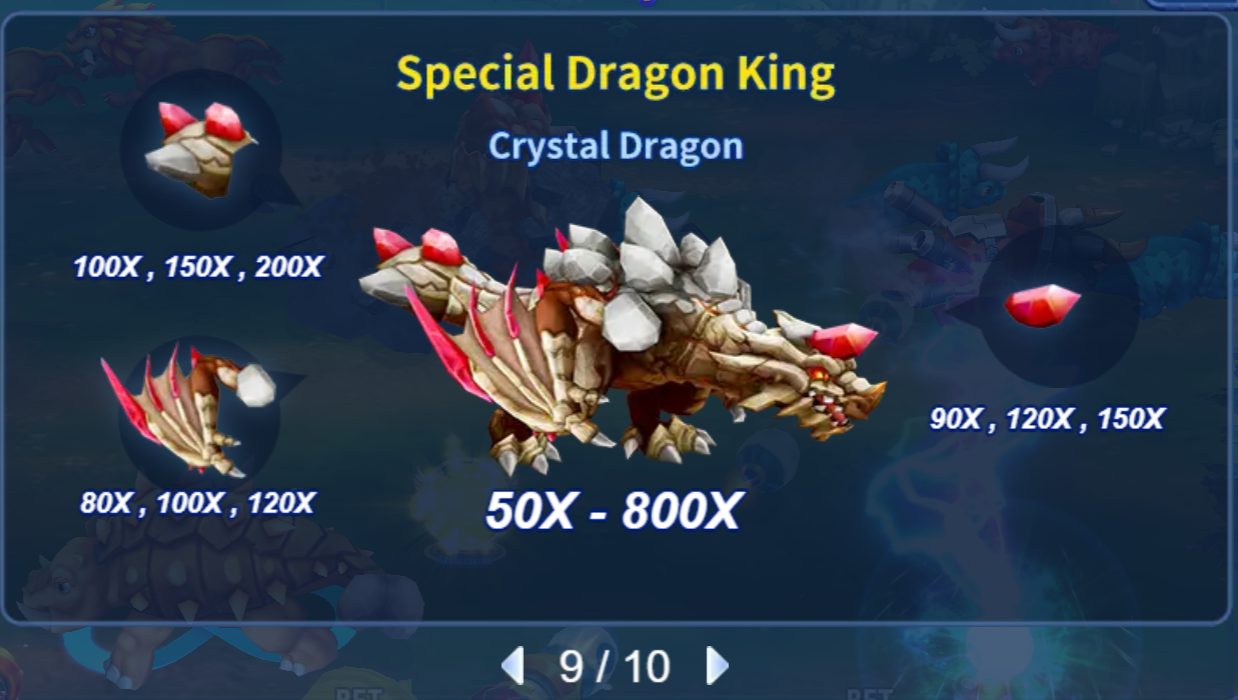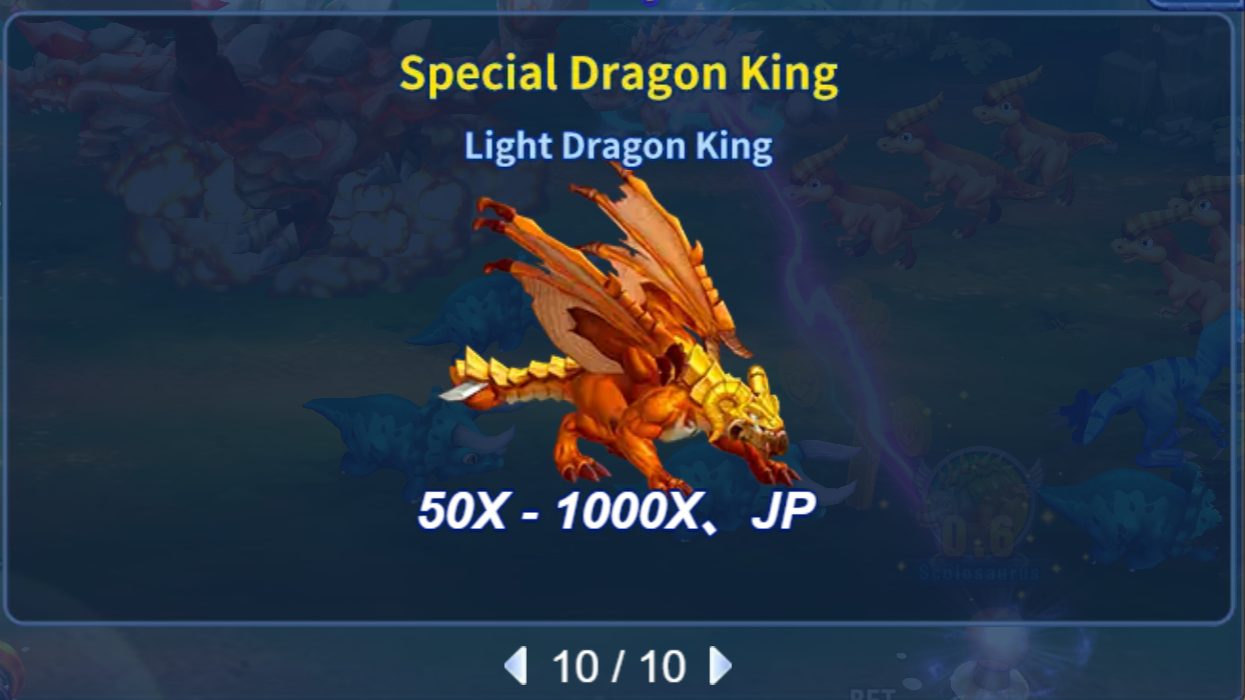 5 Winning Strategies for Dinosaur Tycoon 2 Fishing
Follow our 5 winning strategies below to win at Dinosaur Tycoon 2 Fishing, included master the game mechanics, exploit special dinosaurs, optimize bet levels, engage in mini- games, challenges and utilize energy multipliers.
1. Master the Game Mechanics:
Understand the target control (auto shoot) to focus on strategy.
Choose your weapon wisely for optimal capturing.
Adjust your bet strategically for increased chances.
2. Exploit Special Dinosaurs:
Conquer Sprint Triceratops for sprinting advantage.
Defeat Electric Lizard to activate electric net.
Overcome Bomb Frog for explosive captures.
3. Optimize Bet Levels:
Increase your bet amount for higher rewards.
Higher bets unlock bigger jackpot ranges.
4. Engage in Mini-Games and Challenges:
Defeat Golden Mammoth for significant rewards.
Unlock Dragon King Showdown by conquering two Special Dragon Kings.
Aim for crystal shattering and embrace the Gashapon mini-game.
5. Utilize Energy and Multipliers:
Accumulate energy for a potent Free Waterspout attack.
Capture the Treasure Chest Pterodactyl for bonus multipliers.
Top Casino To Play Dinosaur Tycoon 2 Fishing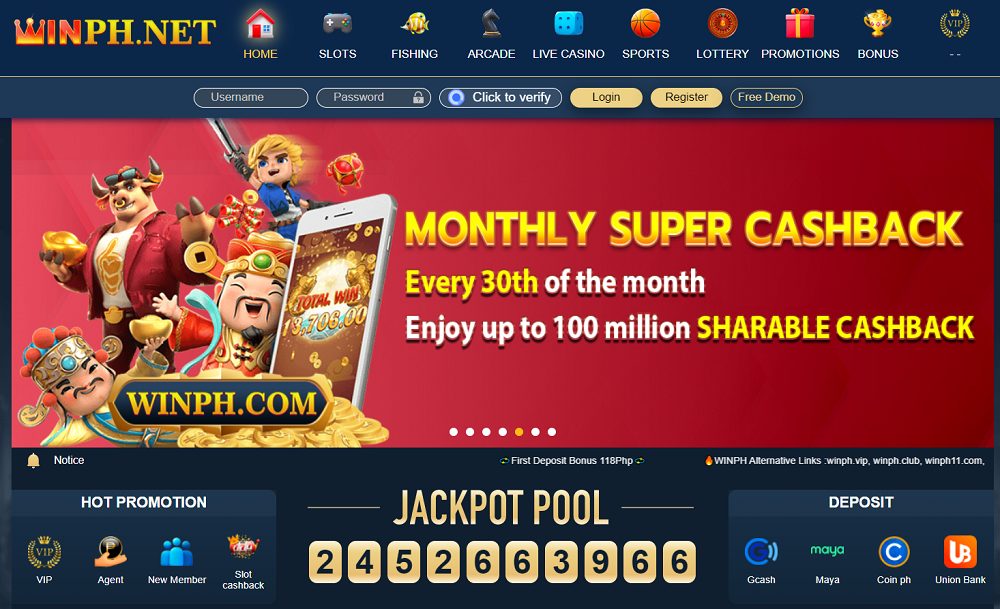 Top Casino to play Dinosaur Tycoon 2 Fishing is Winph. If you're seeking an exhilarating gaming experience that blends prehistoric adventure with the thrill of winning big, look no further than Winph Casino.
At Winph Online Casino, you'll find the perfect platform to embark on your Dinosaur Tycoon 2 Fishing journey. Dive into the captivating world of this unique game, where you can aim and shoot at a diverse range of targets, from dinosaurs and their eggs to the elusive Golden Smilodon and Golden Mammoths.
The excitement doesn't stop there – Winph Casino offers a jackpot system that could lead to a 1000X reward, and the chance to take home accumulated winnings by strategically targeting the Light Dragon King. Immerse yourself in the special features, encounter electrifying special dinosaurs, and engage in thrilling battles.
In this captivating journey through JILI Dinosaur Tycoon Fishing Game, the blend of skill, strategy, and chance in the underwater realm unfolds. The Introduction beckons with promises of prehistoric excitement, while the How to Play section equips you with essential mechanics.
Delving into Games Features unveils a treasure trove of opportunities, while How to Win provides strategies for triumph. With each shot, each creature, and each multiplier, you've experienced the heart-pounding essence of this immersive game.
From mastering weapons to seizing bonuses, you're poised to conquer the deep. Dive into the world of Dinosaur Tycoon Fishing Game, and let your legacy as a skilled hunter and treasure-seeker begin!
Eddie Steve, the dedicated Blog Manager at Winph Online Casino, a premier online casino based in the Philippines. With a passion for both the digital realm and the excitement of casino gaming, Eddie is your go-to guide for all things related to the captivating universe of online casinos. His expertise lies in curating engaging and informative content that not only keeps players well-informed but also enhances their overall gaming experience.
The content provided in this blog post is for informational purposes only and should not be considered as professional advice. The information presented here is based on the knowledge and research available up to the date of publication. However, please be aware that the information in this blog post might become outdated or inaccurate over time.
By accessing and reading this blog post, you acknowledge and agree to the terms of this disclaimer. If you do not agree with these terms, you should not continue to access or use the information provided in this post.