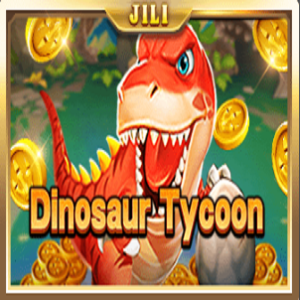 Dinosaur Tycoon Fishing Game Review & Free Demo
Dinosaur Tycoon Fishing Game is a fish shooting game from JILI Games. Discover the game features and learn how to play Dinosaur Tycoon with free demo. 

Let's dive into the captivating world of Dinosaur Tycoon Fishing Game, where adventure, excitement, and lucrative rewards await! This thrilling online shooting game takes you on an exhilarating journey through ancient underwater realms, where prehistoric creatures roam freely.
Armed with an array of powerful weapons, players embark on a quest to capture magnificent dinosaurs, dragons, and mythical creatures. The game's dynamic target control system and auto-shoot feature add to the adrenaline-pumping experience, allowing players of all skill levels to immerse themselves in the action.
Free Demo : Dinosaur Tycoon Fishing
Dinosaur Tycoon Fishing Details & Information
| | |
| --- | --- |
| Software | Jili |
| Type | Video Arcade |
| Payout | 2-1500 |
| Sit Per Table | 4 |
| Min Coins Size | 0.1 |
| Max Coins Size | 100 |
| RTP | 97.78% |
How to Play Dinosaur Tycoon Fishing Game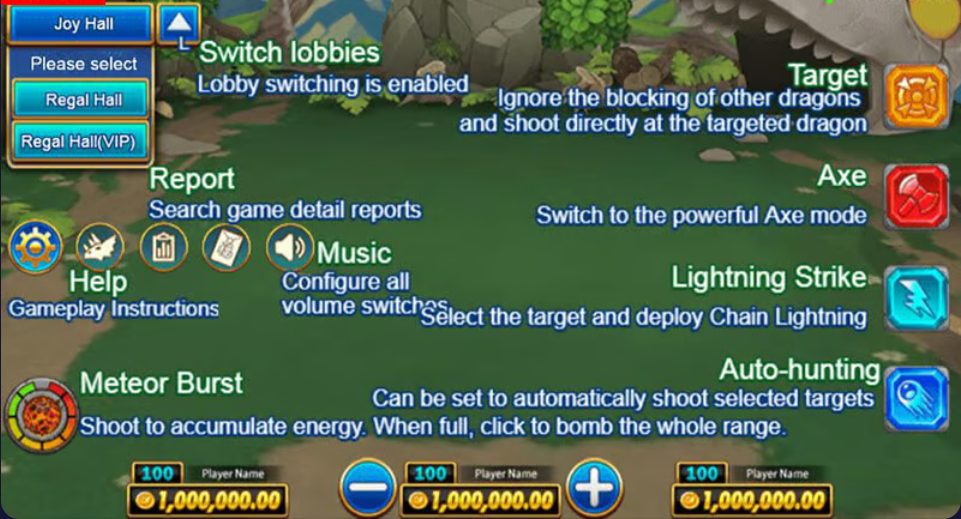 To play Dinosaur Tycoon Fishing , you should understanding the game mechanics, placing your bet, paylines and selecting the game room. Learn how to play Dinosaur Tycoon Fishing with the help of our guide below.
Understanding the Game Mechanics:
Dinosaur Tycoon Fishing Game offers a thrilling shooting experience where players can hunt down various creatures, including dinosaurs, dragons, kings, elephants, giant monsters, and even gold. To ensure your success in this game, let's explore the key game mechanics:
Target Control (Auto Shoot):
In Dinosaur Tycoon Fishing Game, players enjoy the convenience of target control, which means the game automatically shoots at the selected targets. This feature enables players to focus on aiming and strategizing without the need to manually fire each shot.

Choose Your Weapon:
As a skilled player, you have the opportunity to select your preferred weapon for each round. Whether it's a Shotgun Attack, Huge Bone, or Dragon Fire, the choice of weapon can significantly impact your gameplay and chances of success.

Bet Adjustment:
Before embarking on your shooting adventure, it's important to consider your bets carefully. Dinosaur Tycoon Fishing Game allows players to adjust their bets according to their preferences and strategies. Remember, the higher the bet, the greater the potential rewards.
Placing Your Bet and Paylines:
Once you've familiarized yourself with the game mechanics, the next step is to place your bets and choose the desired number of paylines.
Carefully evaluate your budget and risk appetite to determine the most suitable bet size.
Selecting the Game Room:
Dinosaur Tycoon Fishing Game offers various game rooms with different themes and difficulty levels. Each room presents a unique set of challenges and rewards.
Consider your shooting prowess and experience before deciding on the game room that best suits your skill level and objectives.
By understanding these game mechanics and making strategic choices, you'll be well on your way to becoming a formidable Dinosaur Tycoon Fishing Game player. So, load your weapons, set your bets, and get ready for an adrenaline-pumping gaming experience filled with treasure and excitement!
Games Features of Dinosaur Tycoon Fishing Game
There are several important game features in Dinosaur Tycoon Fishing, included golden mammoth, effect dragon, special medium dragon, flying dragon wheel, golden T-rex, special weapon and skill. Get ready to dive in and take a look at each of them mentioned below!
1.Golden Mammoth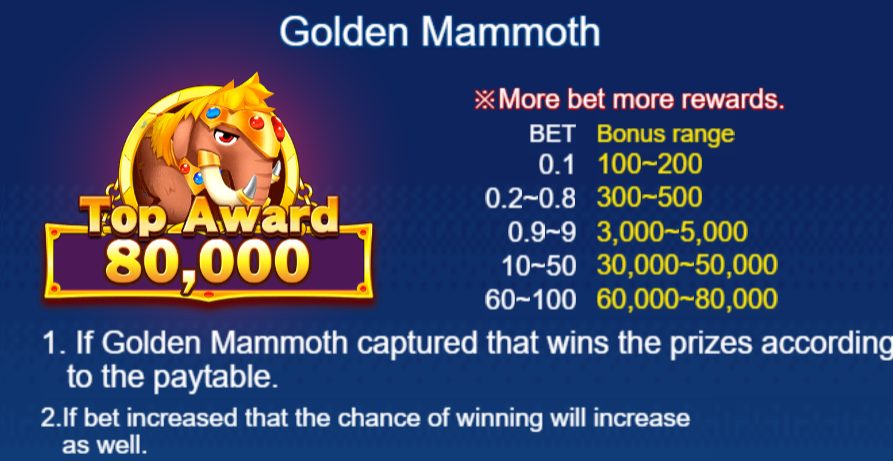 The Golden Mammoth is a prized target in the Dinosaur Tycoon Fishing Game. Capturing the Golden Mammoth allows players to win prizes according to the paytable. Interestingly, increasing your bet also enhances your chances of winning when you successfully capture the Golden Mammoth. As you place higher bets, you unlock the potential for more significant bonuses.
Bet 0.1 Range Jackpot 100-200.
Bet 0.2-0.8 during Jackpot 300-500.
Bet 0.9-9 during Jackpot 3000-5000.
Bet 10-50 Range Jackpot 30,000-50,000.
Bet 60-100 Range Jackpot 60,000-80,000.
When players manage to defeat the Golden Mammoth, they get the opportunity to win all the bonuses displayed in the Bonus panel, enhancing their chances of more significant rewards.
2.Effects Dragon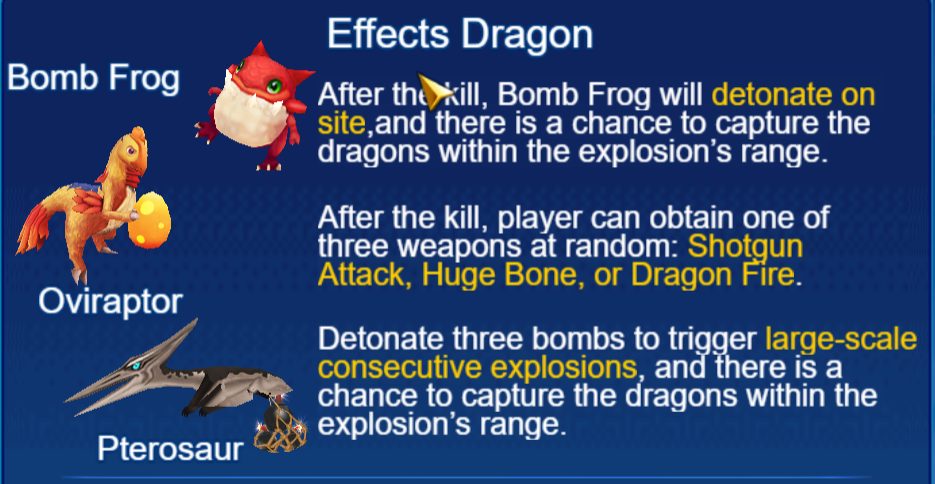 After eliminating the Effects Dragon, players encounter the Bomb Frog. Upon defeat, the Bomb Frog detonates on-site, presenting a chance to capture dragons within the range of the explosion.
Oviraptor
Defeating the Oviraptor allows players to receive one of three weapons at random. These weapons include the Shotgun Attack, Huge Bone, or Dragon Fire, each with its unique abilities and advantages, adding strategic depth to the game.
3.Special Medium Dragon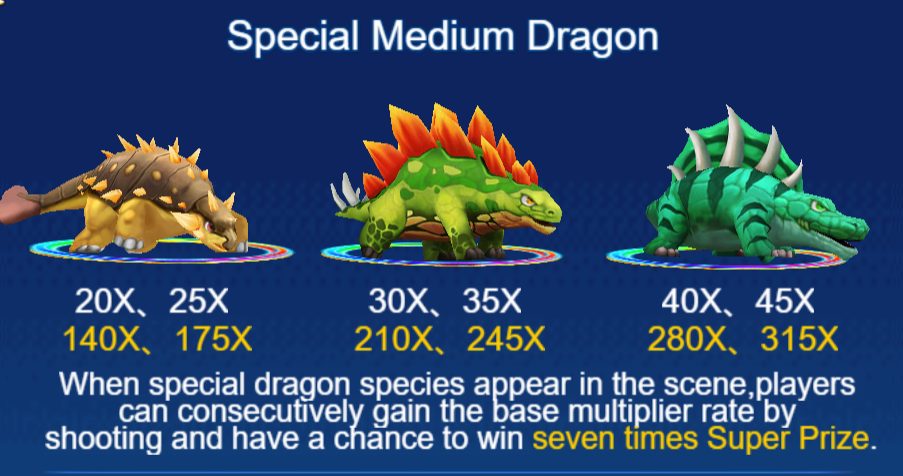 When special dragon species appear in the scene, players can consecutively gain the base multiplier rate by shooting, offering the chance to win seven times the Super Prize. This presents an exciting opportunity for players to boost their winnings significantly.
4.Flying Dragon Wheel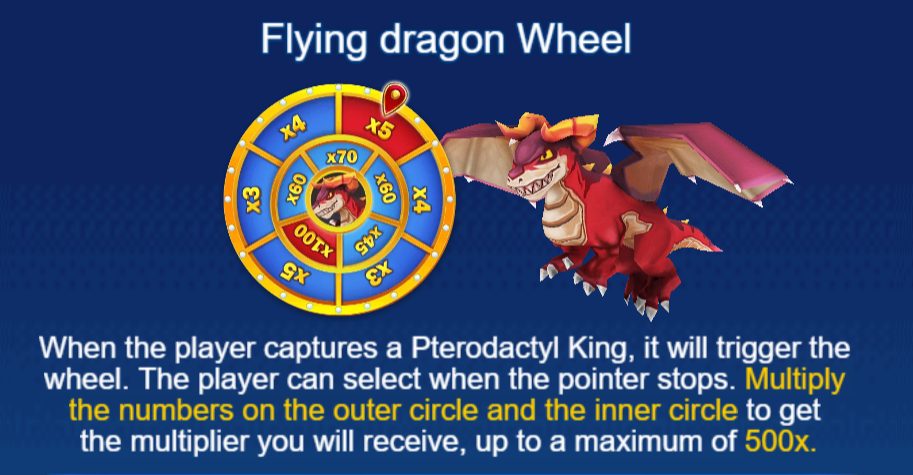 Capturing a Pterodactyl King triggers the Flying Dragon Wheel feature. Players can control when the pointer stops, and the numbers on the outer circle and inner circle are multiplied to determine the multiplier they will receive, with a maximum of up to 500X.
5.Golden T-Rex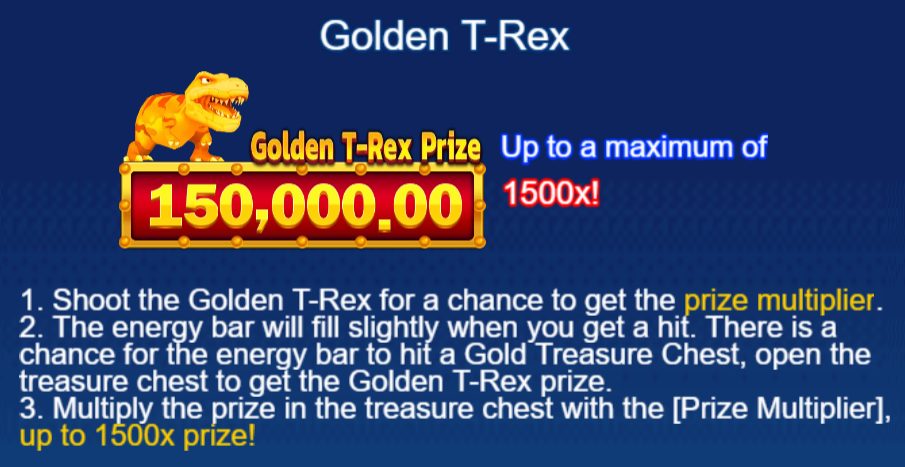 Shooting the Golden T-Rex offers a chance to get a prize multiplier. Each hit on the Golden T-Rex fills the energy bar slightly. If the energy bar hits a Gold Treasure Chest, players can open the treasure chest to claim the Golden T-Rex prize. 
6.Special Weapon – Heavy Axe
The Heavy Axe symbol, when used, deducts 6 times the bet. Players can click on large dragons on the screen to execute more powerful attacks (dragons below 6X cannot be hit), increasing their chances of defeating formidable creatures.
7.Special Skill – Lightning Strike
Using the Electric Cannon Symbol deducts 15 times the bet. Players can select a target and deploy Chain Lightning on 2-5 nearby dragons, creating electrifying moments and improved odds of success.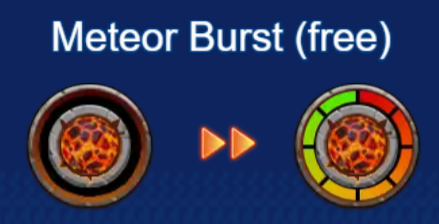 8.Meteor Burst (Free)
Players accumulate energy when shooting, and when the energy bar is full, they can deploy the Meteor Burst to inflict large-area explosion damage in the center of the screen. The energy conversion is based on the amount bet, and the Meteor Burst's impact is calculated according to the current bet.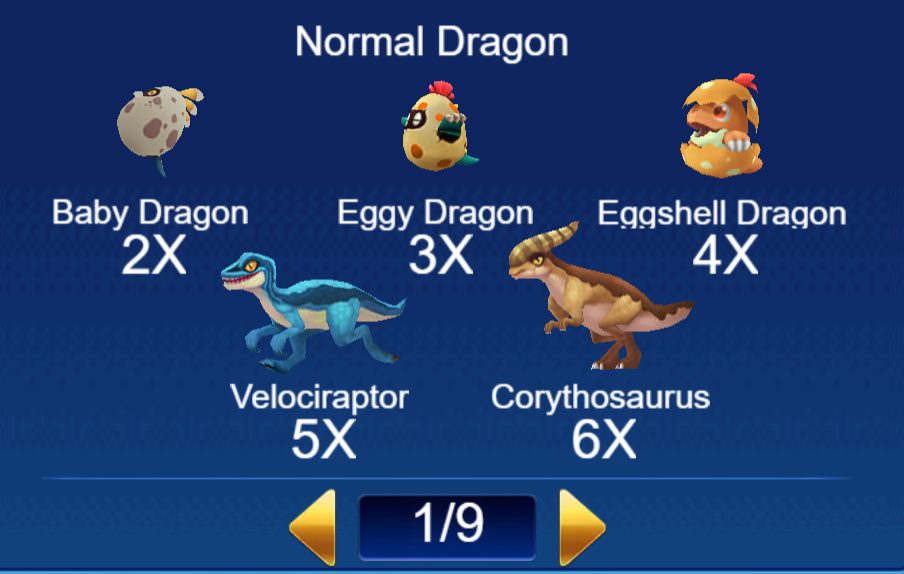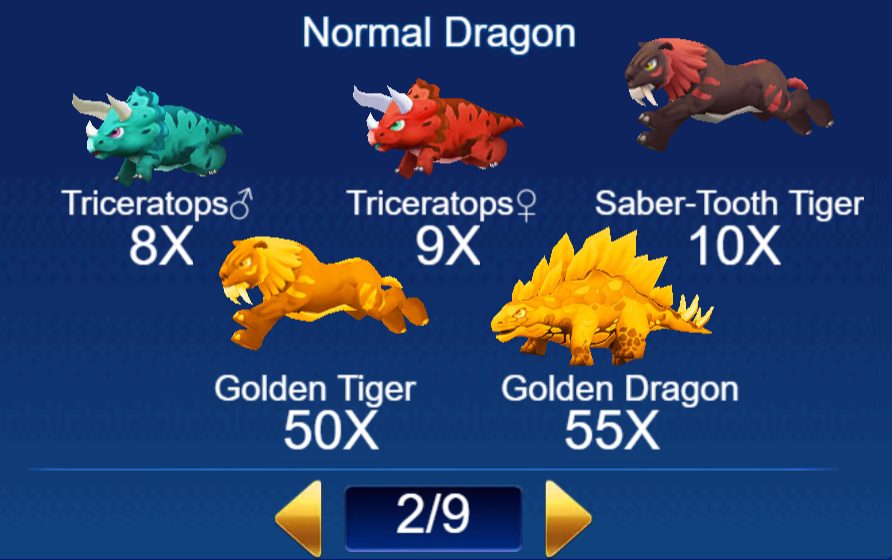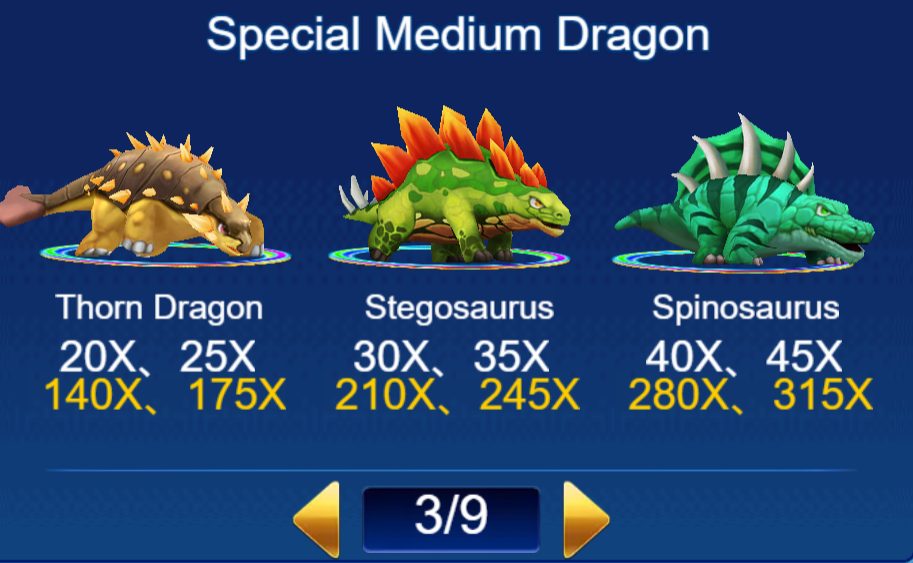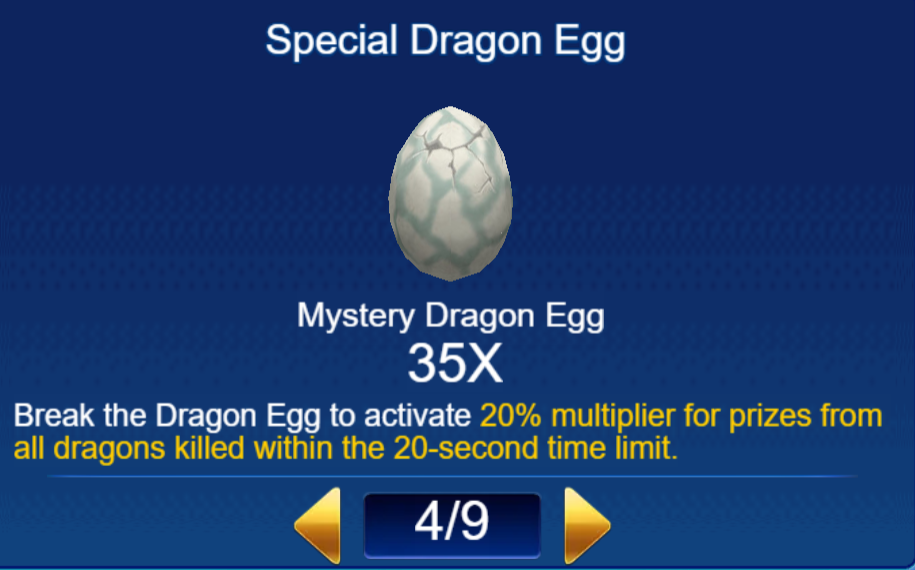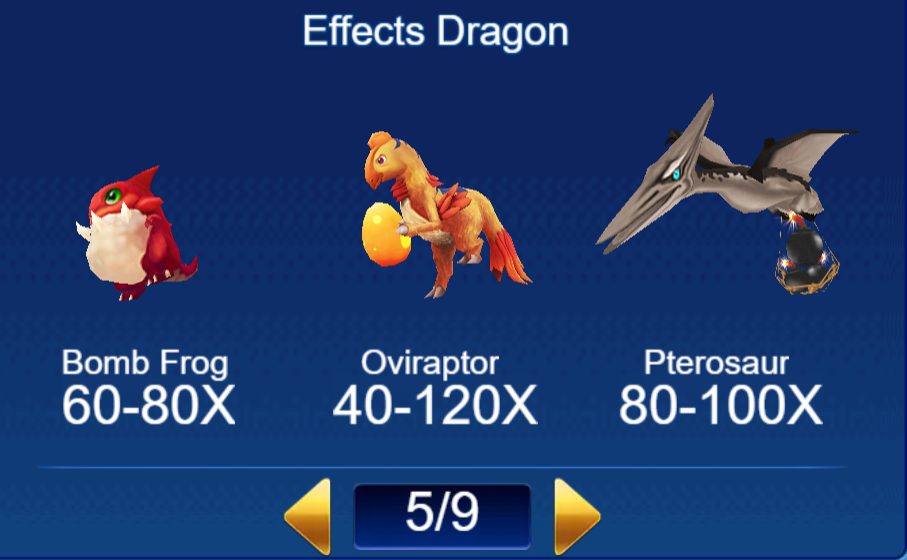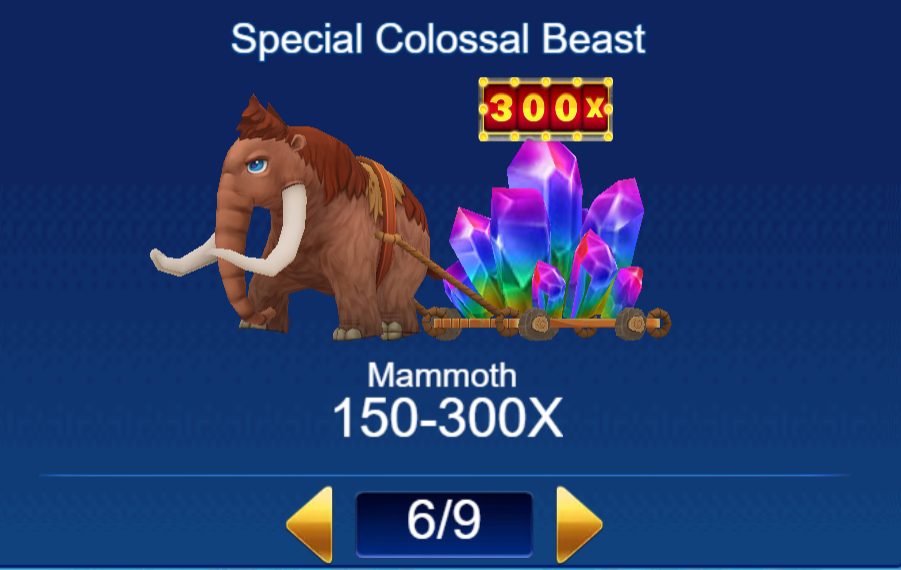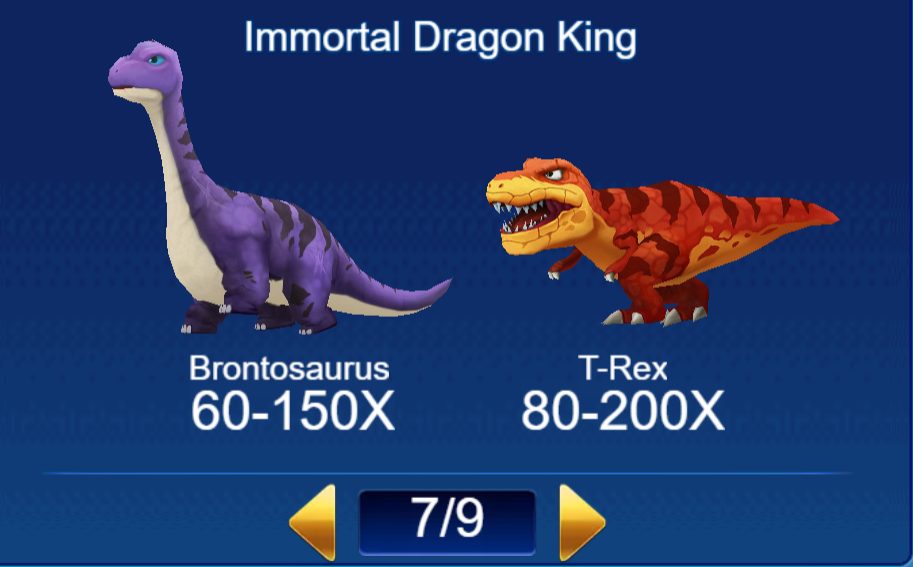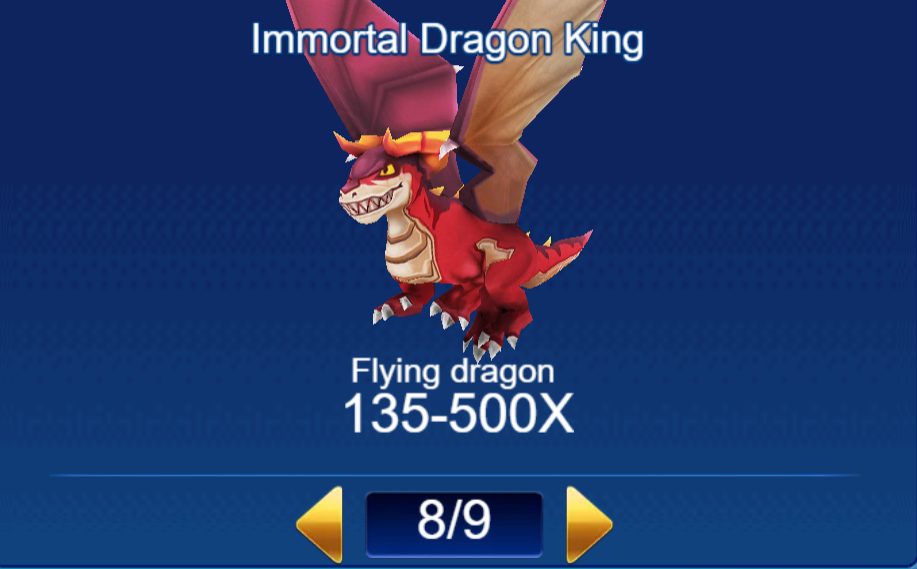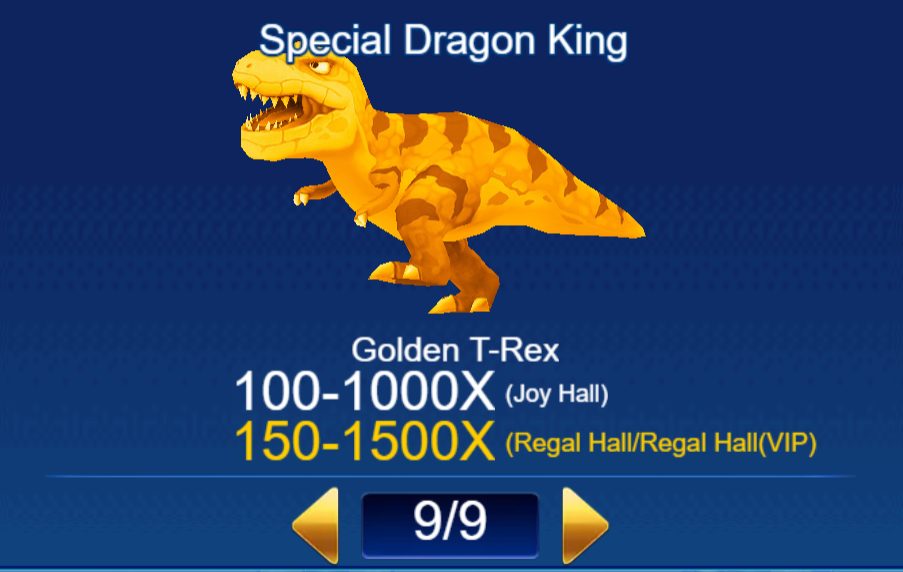 5 Winning Strategies for Dinosaur Tycoon Fishing
Follow our 4 winning strategies below to win at Dinosaur Tycoon 2 Fishing, included master the game mechanics, strategize your bets, focus on high-value targets and leverage special features.
1.Master the Game Mechanics
To increase your chances of winning in Dinosaur Tycoon Fishing Game, it's crucial to have a solid grasp of the game mechanics discussed in the previous section. Understand how target control (auto shoot), weapon selection, and bet adjustment work together to optimize your gameplay.
2.Strategize Your Bets
As highlighted in the Games Features section, betting plays a vital role in this game. To maximize your rewards, consider your risk tolerance and betting strategy. Higher bets often lead to more significant bonuses, but it's essential to find the right balance that suits your playstyle.
3.Focus on High-Value Targets
When aiming at creatures like the Golden Mammoth or Golden T-Rex, you have the chance to win substantial prize multipliers. Concentrate your efforts on these high-value targets and use special weapons like the Heavy Axe and Lightning Strike to your advantage.
4.Leverage Special Features
Take advantage of special features like the Flying Dragon Wheel and Meteor Burst. These can provide opportunities to multiply your winnings and capture multiple creatures in one go. Strategically time and utilize these features to your benefit.
Top Casino To Play Dinosaur Tycoon Fishing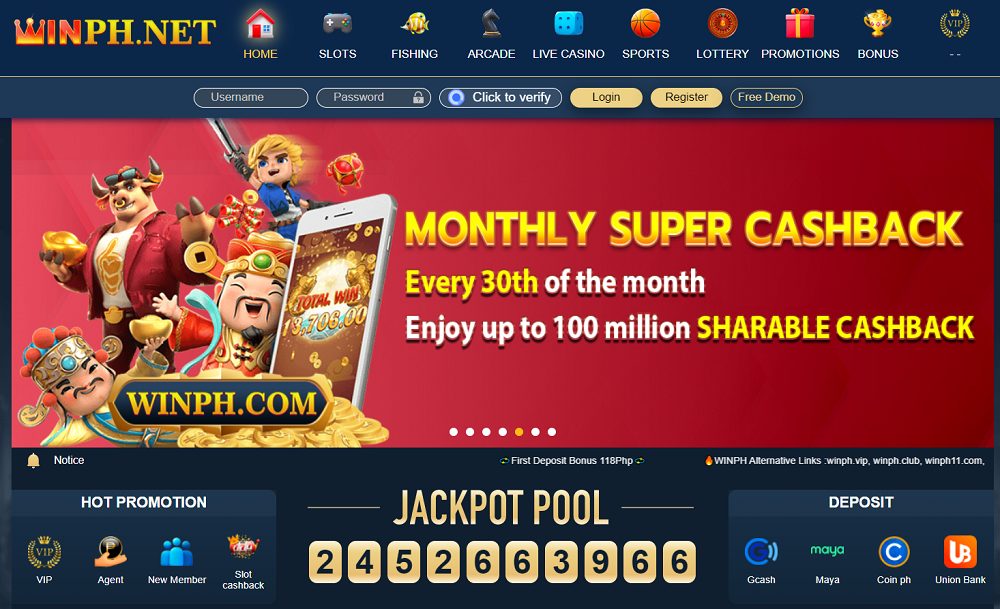 Top Casino to play Dinosaur Tycoon Fishing is Winph. For an exhilarating gaming experience with Dinosaur Tycoon Fishing Game, look no further than Winph Phillipines Casino. Offering a cutting-edge platform, Winph Casino presents the perfect destination to immerse yourself in this popular shooting game.
With its user-friendly interface and seamless gameplay, players can easily navigate through the thrilling world of shooting dinosaurs, dragons, kings, and more. Winph Casino provides a secure and fair gaming environment, ensuring that players can focus on the excitement without any worries.
Moreover, the casino's generous bonuses and promotions enhance the gaming journey, providing additional opportunities to win big. Whether you're a seasoned player or a newcomer, Winph Casino caters to all skill levels, making it an ideal choice for both casual and dedicated gamers.
In conclusion, JILI Dinosaur Tycoon Fishing Game offered by Winph Casino presents an enthralling gaming experience that captivates players from the moment they dive in. The game's diverse and action-packed features, explored in detail through the sections of Introduction, How to Play Dinosaur Tycoon Fishing Game, Games Features of Dinosaur Tycoon Fishing Game, and How to Win Dinosaur Tycoon Fishing Game, showcase the perfect blend of shooting excitement and strategic gameplay.
As players venture into the underwater realms, armed with powerful weapons, they'll find themselves immersed in a world filled with dinosaurs, dragons, and epic treasures. With its user-friendly interface and generous bonuses, Winph Casino provides the ultimate platform for mastering the art of dinosaur hunting and reaping impressive rewards. So, embark on this thrilling adventure at Winph Casino, and let the hunt begin!
Eddie Steve, the dedicated Blog Manager at Winph Online Casino, a premier online casino based in the Philippines. With a passion for both the digital realm and the excitement of casino gaming, Eddie is your go-to guide for all things related to the captivating universe of online casinos. His expertise lies in curating engaging and informative content that not only keeps players well-informed but also enhances their overall gaming experience.
The content provided in this blog post is for informational purposes only and should not be considered as professional advice. The information presented here is based on the knowledge and research available up to the date of publication. However, please be aware that the information in this blog post might become outdated or inaccurate over time.
By accessing and reading this blog post, you acknowledge and agree to the terms of this disclaimer. If you do not agree with these terms, you should not continue to access or use the information provided in this post.